The luxury goods CEO Bernard Arnault witnessed his net worth rise steeply, resulting in dethroning of the Amazon CEO Jeff Bezos who has been at perch atop. According to the Forbes list of real-time billionaires, Mr. Arnault became the world's richest man on Monday with a net worth of $109.6bn. Around 10:30 a.m. ET, shares of his luxury conglomerate LVMH hit $458.46, propelling Arnault past Amazon's Jeff Bezos. However, the title was short-lived; as, by the 4 p.m. market close, Amazon stock had risen 0.7%. Arnault finished the day with $109.3 billion to his name, compared to Bezos' $110.1 billion. Nonetheless, Arnault remains firmly ahead of Bill Gates ($107.8 billion), who he passed for the number two spot on Friday.
Bill Gates has never been lower than No. 2 in the seven-year history of the Bloomberg Billionaires Index. However, the streak ended when the Microsoft Corp co-founder dropped to No. 3 as France's Bernard Arnault has surpassed Bill Gates with whooping 200 million difference. According to the index, Arnault has a net worth of around $108 billion, has added $39 billion to his fortune in the past year. Whereas, Gates's net worth is $107 billion. The 70-year old man already made headlines when he committed $224 million to the rebuilding of Paris' Notre Dame Cathedral.
The second richest man in the world, Bernard Arnault affirms that every individual has an idea. He believed in his idea, took the risk, and turned his ideology into a successful business.
"In Luxury business, you have to build on heritage" – Bernard Arnault

Here are some interesting facts about the world's second-richest person:
Bernard Jean Etienne Arnault was born on March 05, 1949, in Roubaix, France. He did schooling at Maxence Van Der Meersch High School, Roubaix and graduated with Engineering Degree from Ecole Polytechnique, an institution of higher education and research in Paliaiseau, in 1971. 
After graduation, Bernard joined his father in his business. He grew with the company to become its CEO in 1977 and in 1979, he succeeded his father to head it as president of the company.
He realized the importance of brand value while visiting the US for the first time at the age of 21 when a taxi driver he hired, identified France with the name of Christian Dior than with anything else.

In 1984, Bernard bought a nearly bankrupt company, Agache-Willot-Boussac, which was into retailing fashion and manufacturing. The investment was his passageway to the luxury business world. Later, he nearly sold all the assets keeping only the prestigious brand Christian Dior and Le Bon Marche.

By July 1989, he gained control of 43.5% of LVMH (Louis Vuitton SE). He promoted decentralized decision making of the group's brands, which caused the sales, and profit rise by 500%. 

By 2007, he became one of the richest men in France, with 70 brands strong empire that include Christian Dior, Dom Perignon, Bulgari, Louis Vuitton, Celine Fendi, and Sephora.

Bernard Arnault luxury group is famous for its high-end products. The oldest brand under the belt of LVMH brands is

Chateau d'Yquem

, a wine producer. It originated back in the year

1593

. The specialty of wines from Chateau d'Yquem is their longevity.

Bernard Arnault's LVMH is a huge success in many countries, notably in Japan. Although Bernard Arnault star brand never goes on sale and you cannot find Louis Vuitton at a discounted price, it is stated that almost 85% of Japan's female population is a proud owner of Louis Vuitton products. 

Louis Vuitton does not want to put their bags at a lower price. Therefore, to maintain its exclusiveness and avoid selling them at a lower price, they set it on fire! 

As reported in January 2013 by the Billionaires Index, Bernard Arnault was the 15th richest man in the world. Forbes also named Bernard as the "Fashion Person" of the year 2011. Today he has ranked 2nd richest man among the whole world.

Delphine Arnault, the daughter of Bernard Arnault, is surely following the example of her father. She is a billionaire already and indeed one of the richest women around the globe. In 2008, she was reported as the world's richest woman.

Bernard Arnault was featured in 'Time' magazine's annual Time 100 issue as one of the 100 most influential people in the world.

His company is engaged in several philanthropic activities i.e. they support humanitarian, scientific and medical research organizations.

Along with being a successful businessman, investor he's also an art collector; he owns art pieces by Jean-Michel Basquiat, Damien Hirst, Maurizio Cattelan, Andy Warhol, and Pablo Picasso.
Here are inspiring quotes by Bernard Arnault reflecting his business ethics.
 You have to be just as mistrustful of straightforward rationality in business as you do of a uniquely gut approach. – Bernard Arnault
 Money is just a consequence. I always say to my team, 'Don't worry too much about profitability. If you do your job well, the profitability will come.' – Bernard Arnault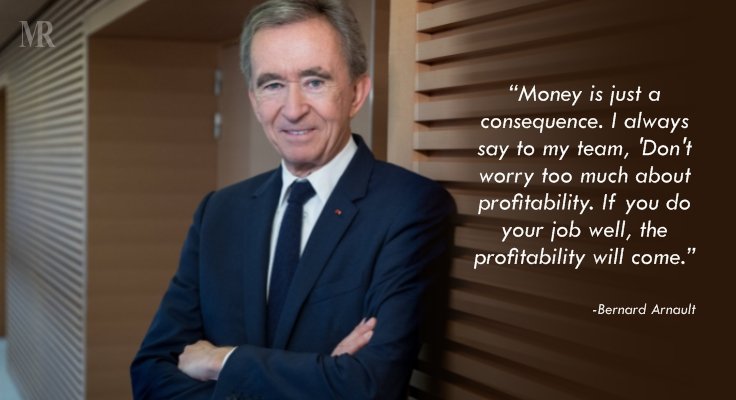 In business, I think the most important thing is to position yourself for long-term and not be too impatient, which I am by nature, and I have to control myself. – Bernard Arnault