I'll be there for you (When the rain starts to pour) I'll be there for you (Like I've been there before)
I'll be there for you ('Cause you're there for me too) – The Remembrants 
Do these lines from The Remembrants' song or better yet, the theme song from the All-Time Favorite American sitcom's F.R.I.E.N.D.S tug a chord to your heartstrings? Do they take you to the binge-watching hours spent in your room with your best bud, enjoying a bowl of cheesy popcorns and sipping a cup of hot cocoa on a cold rainy day? Just like Ross, Rachel, Joey, Phoebe, Monica, and Chandler do in Central Perk. Ah, nostalgia indeed!
In a world where technology and disruption are uttered in the same breath, life and its simplistic experiences have the power to bring a huge grin on your face, a positive thump to your heart and a tomorrow is going to be better than today hope. We somehow lose the child-like innocence, the twinkle in our eyes now shadowed by a bag-full of responsibility, and most importantly, the connection we have with our type of creatures called as friends.
From Montessori to grad school, left behind are some amazing number of people with whom we have shared chocolate bars to home works to tales of life's failures (about heartbreaks and coming 2nd in the class, at least that is how we termed our minor setbacks as life's failures back then). But do you know who was/were there through thick and thin, pulling our legs, making us smile, coming to our rescue, fighting with guys on our behalf? Our dearest, nearest, most loyal, and a wonderful gang of friends.
So like all the other special days, celebrating and rejoicing our friends on this International Friendship's Day become a happy must to do task for us. As we move ahead in life, we start to lose connection with our friends. New job, more responsibilities, long hours, and extreme pressure; this repeated cycle causes havoc in our lives and instead of making us content, turns our world upside down. But imagine this scenario, you are sitting in your office, all fed up and exhausted after back to back meetings and suddenly receive a call from your long lost but never away from your memories friend. How good does it feel, right? He takes your name and curses and you laugh and get back at him. Those 10 mins of happy moments enable you to pass the rest of the day in swiftly. Instead of your boss's monotonous voice, you start thinking about the lame joke your friend cracked and laugh at it again. So, as we grow older, wiser, and bald (well most of us do), we start valuing the bare essentials of life––memories, family, and friends.
On this International Friendship's Day, if you follow all the below mentioned 5 things, you might just save yourself from losing yourself.
1. Phone a friend: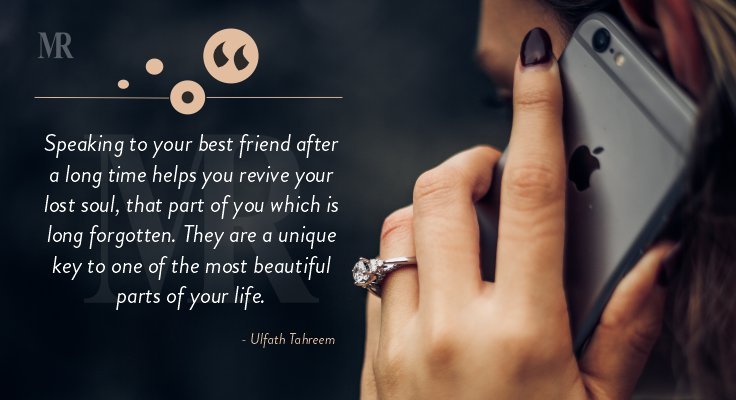 Don't wait for the time or hour of the day. Just give them a call. Sometimes, we tend to overthink about simple things and lose the moment. Make sure we don't let it happen this time. So this is how we are going to roll. Call them, talk non-stop, tell them we miss hanging out, wish to catch up with them soon, and everything we haven't discussed lately. This will help you find yourself again and give a much needed time to take a pause and smell the roses.
2. Apologize to friends we lost touch with:
Sorry is one of the nicest and humble words one can think of. There are times when we quarrel, argue, curse, and utter things that shouldn't be said. At the heat of the moment, we tend to make mistakes and later feel that we shouldn't have, but now don't know how to make the first move. This is a God send day for those who wish to apologize, sort and clear things out with their long lost friends. Make the first move, give them a chance, and feel better.
3. Thank our teachers/seniors/mentors:
Such is the beauty of friendship that it does not create boundaries. You may know someone who is 15 years old and way too wiser for his age but loves the same movies and has similar opinions as you on them. Hard to understand, right? Or you may chat with your Neighbourhood grandma and enjoy a hearty laugh on some random things. Guidance from your seniors, college mentors or school teachers still keeps you on the right track. Till now, these have become our friends when we needed a helping hand, a coach while selecting our subjects or even a non-judgmental person to share our thoughts and future plans with. Let's call them and let them know how much we have grown, how far we have come, and where we are planning to go. Our call might just make their day as well as ours.
4. Show gratitude towards our parents:
They are the ones who gave us life, became our torchbearers, showered us with love and devotion, and no matter what mistake we made, giving us a chance to explain. We know Parent's Day was in June, but it is never enough to thank and appreciate our parents. Do the right thing and tell them how much we value them in our lives.
5. Thank the Lord:
We all share a different bond with the Almighty; some believe he exists while some don't. Atheists, Agnostics, deists, too many terminologies of who believes whom and what not. So stop right here. For once, think without the boundaries, go beyond ourselves, and thank without limits. Thank whoever we want to and however much we need to. The moment is here, let's grab it and make the most out of it.
No matter where we are, who we are, or where we are gonna be, try to catch our breaths, stay humble, learn the art of contentment, be kind, and cherish life. The concept of World Friendship's Day was started by Dr. Ramon Artemio Bracho in 1958 to promote friendship and foster care among all human beings regardless of their race, religion, and ethnicity.
Let's show gratitude to our friends, family members, teammates, and anyone who made us smile by following the above 5 things on this International Friendship Day. The team of Mirror Review wishes our clients, readers, subscribers, and all those who have helped us in our journey so far.
Thank you and Happy Friendship's Day!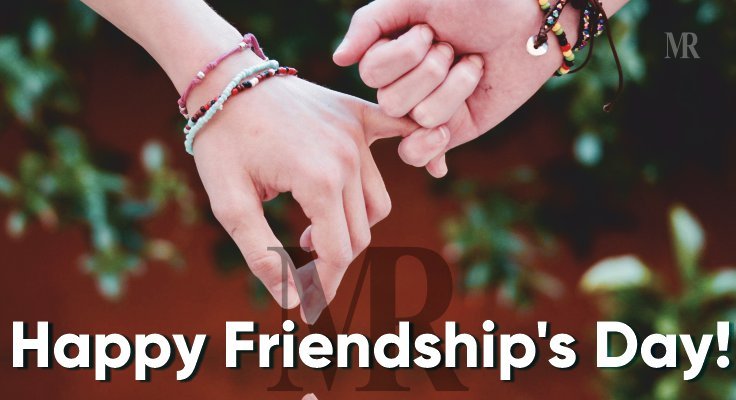 Also Read:- Why World emoji day is celebrated on 17th July?