Today, in this social media-driven world, M-commerce plays an important role and mobile devices are more crucial than ever. With new developments every day to increase engagement, there is a rise in shoppable posts on various social media platforms.
Shoppable posts are a bit different than usual posts. These posts have product tags in the post with descriptions and pricing of the product. General posts are used to attract an audience, build community, and drive traffic to the website. Whereas, shoppable posts are used to directly sell the products on social media. Shoppable posts have proven to be an effective and convenient way to turn a visitor into a customer. Shoppable posts, if implemented well, could not only increase your visibility and drive traffic to your website but also improve your customer base. But selling on social media, where people come to get entertained, can be a bit tricky.
But don't worry, through this blog, we will help you understand how to effectively use shoppable posts and grow your sales like a pro.
1. Identify your customer
For selling any kind of product online or offline, knowing your customer is a primary requisite. According to statista.com close to 3.6 billion people use social media today. With such a wide user base it is important to target the right user relevant to your product, and with numerous analytics tools that these platforms offer, the user behaviour is easier to understand. Unlike standalone E-commerce websites, shoppable posts do not overwhelm the users with too many options for selection. This gives you an edge and targetting the right user base could motivate them into purchasing your product.
2. Pay attention to the visuals
A major problem with online shopping is that the customers cannot feel the product. One important aspect of selling online is to bring the feel of the product by using appealing visuals. Shoppable posts are a form of visual merchandising and they can be used to connect with the customer without being a hard sell. These images or posts, within moments, could help you increase the post's engagement and convert the audience into customers.
Nowadays audiences are obsessed with vibrant images and pay attention to the aesthetics of any post. With the right post and an appealing picture, the users can be influenced to make a purchase right away. As seen in the below example, a simple yet elegant image could make a great difference.
3. Choose the right product for your shoppable posts
Choosing the right product is a two-fold process. Initially, you will have to rely on your instincts but with time and the analytics of the performance of your posts, you will have to structure out your products and highlight the products that could be marketed more often for these shoppable posts. You should be able to identify your products with better branding potential and emphasize them accordingly. By understanding every feature and benefit of each product, it will be easier to prioritize your products and can increase the number of actual buying customers.
4. Keep posts natural to the feed
It is important to note that while you are trying to sell your products, it should not be made obvious. The users must find it natural and a part of their feed. The shoppable tags should be incorporated in an otherwise normal post. This could be organically done by high quality user-generated content and adding the shopping tags to it, making it a natural way to be seen.
As wrenandglory has done in the posts below. They have posted an appealing picture and an audience who like fashion posts will probably like it. The products are tagged where they appear, rather than posting just the picture of the products, which may look mundane at times.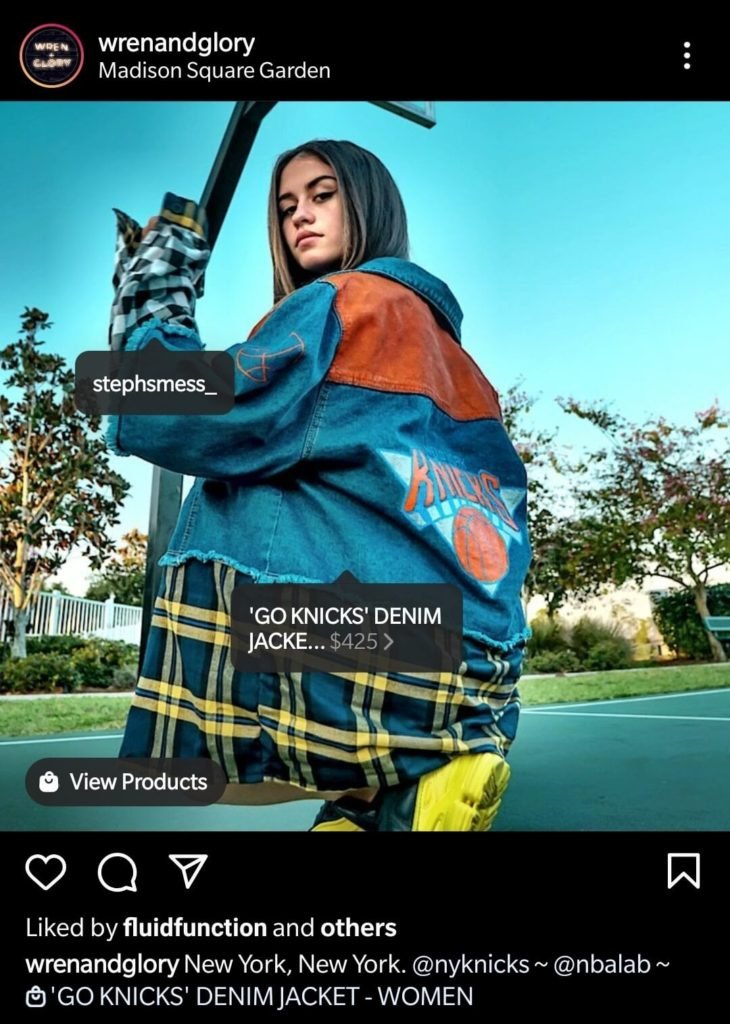 5. Collaborate with influencers
Another organic and effective way to keep your posts natural is by collaborating with social media influencers and adding the tags to those posts. Collaborations and sponsorships could be leveraged in very effective ways as they are replacing the traditional way of advertising in the social space. This will help optimize your sales and visibility along with increasing the credibility of your product. It will give a stamp of approval for your products and help you go a long way.
TopShop, a British fashion retailer recently collaborated with Beyonce for one of its campaigns. While bigger brands collaborate with celebrities, many small brands collaborate with social media influencers still proving to be as beneficial. As seen in the post below, madewell never misses a chance to use influencer posts.
6. Keep your Facebook business page/product catalogue updated
If you are creating shoppable posts on Instagram, they are directly linked to your facebook business page and the products are chosen from that page. Hence, the catalogue there should be maintained and updated regularly. This catalogue holds all the information about the items you would like to advertise and sell. Be precise with the description and pricing in this catalogue. This catalogue can be used to make posts on various other platforms as well.
7. Situational Marketing
Situational marketing today has become an integral part of the digital marketing strategies. It is a response to any viral or trending social events, while keeping relevance to a mass audience. By this response, a brand tries to create a viral effect and draw attention towards its products or services. With the right situational marketing you not only increase your brand awareness, but the reach of the post as well.
You could use any trending topic or the significance of a particular day to create that effect. It could be anything from a celebrity birthday or International celebration day to a failed political campaign. Twentydresses use this the right way every month by posting their products with a horoscope touch.
8. Delve into analytics
Just as they say the social space is indeed a superficial space! With users and their behavior changing everyday, it is important to measure the results of your shoppable posts. The business accounts on these platforms also provide analytics for your shoppable posts. You can track everything right from how many people viewed the posts to checked up the post and actually clicked to visit your website. Along with the efforts taken for these posts, monitoring your performance data is equally important to understand what drove those results. No matter what your product is, delving into analytics helps you understand your audience and make further informed posts.

Now that you have some tips up your sleeve, we are sure you can get going with these shoppable posts rights away. Shoppable posts, no doubt are going to become a fast lane for markets, and Instagram has taken this feature a notch up by introducing Instagram Checkout. This enables users to complete the payment in the app itself proving beneficial to both the platform and the seller. Currently limited to the US, in the time to come, it will roll out this feature to other countries as well and other platforms would also likely follow. It is only a matter of time and if you dive into it right today, surely you will be a pro before this feature becomes a major means for marketing.
As for Instagram marketing, you can also check out our blog on Instagram marketing strategies here: The 10 Best Instagram Marketing Strategies To Increase Engagement.