In 2015, one of Australia's powerful miners' daughter shook the world of business when she was listed as the 37th most Powerful woman in the world. Gina Rinehart became a renowned business tycoons' face by standing on a staggering $30.9 Billion wealth, built out of iron ores. The Australian miner's daughter is a renowned business magnate. In this blog, we will cover some unbeknown Gina Rinehart facts that formed the stepping stone to her billion-dollar fortune and media-attracting personality.
Before we proceed with our list of notable Gina Rinehart facts, let us learn who Gina is and how did she come this far.
Who is Gina Rinehart?
Georgina Hope "Gina" Rinehart AO is unanimously recognized as Gina Rinehart. Born in 1954, Gina was born and brought up in Australia. She is the only child of Hope Margaret Nicholas and Lang Hancock. In 2010, she became the richest woman in Australia, and in 2011 she became the richest person in Australia. She further went on to become the richest woman in the world in 2012, sitting on an estimated net worth of nearly $30 Billion.
Gina's success story is not a rags-to-riches one. Although she inherited her late father's fortune and designation, she has built her own empire on the molds of iron ore. Let us learn her story of success from the following undiscovered Gina Rinehart facts which briefly cover the various phases of her life.
Gina Rinehart Facts: The Early Phase
Being the only child, Gina was highly adored by Lang and Hope (especially Lang). Gina inherited Lang's obsession with mining. Sometimes, she also attended various global meetings with her father.
Gina went to the University of Sydney where she studied Economics. However, she continued for only a year when she discovered how her similarities did not match that of her classmates. She dropped out and began working for her father, gaining extensive knowledge of the Pilbara iron-ore industry.
In 1973, she married Englishman Greg Milton while both were working in Wittenoom. The couple separated in 1979 and divorced in 1981. The couple was survived by two children.
In 1983, she married corporate lawyer and Arco executive, Frank Rinehart in Las Vegas and had two children from her second father as well.
Gina Rinehart Facts: The Family Clashes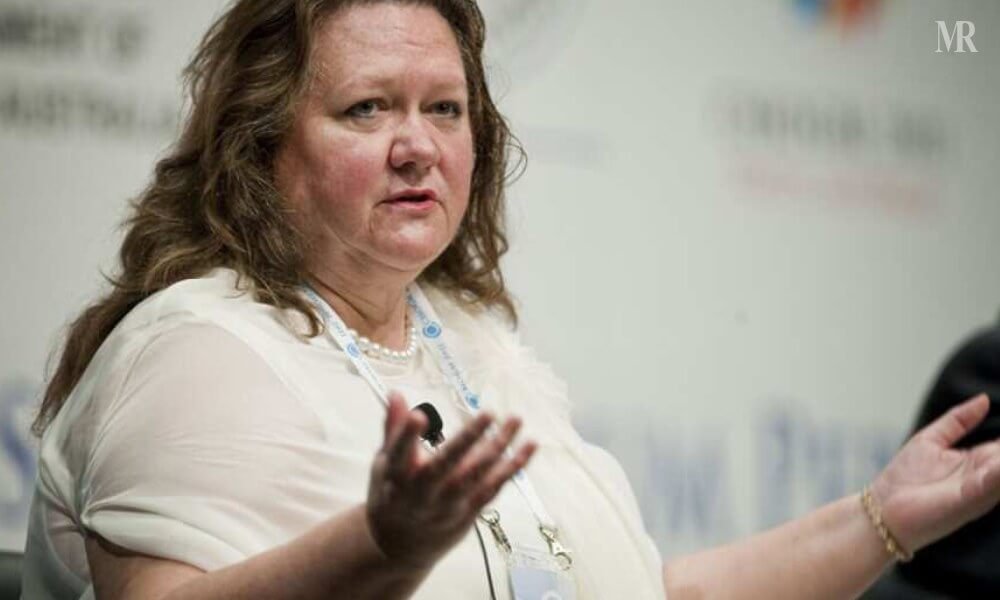 Gina and Lang began to clash, following Gina's marital status. Lang suspected that the family issues which occurred inside the house premises were provoked by Gina's second husband, Frank Rinehart (who died in 1990).
Following her father's death in 1992, she fought with her stepmother Rose over Lang's estate for about 11 years. She alleged that Rose was somehow involved in her father's death. However, later, it was concluded that Lang died of natural causes. The long fight ended with Rose keeping a few assets, including Prix d'Amour, while Rinehart retained sole control of Hancock Prospecting and its ever-increasing royalty stream.
Gina Rinehart Facts: The Becoming of a Billionaire Businesswoman
Following her father's death in 1992, Gina became the Chairman of Hancock Prospecting Pty Limited (HPPL) and the HPPL Group of Companies.
In the years that followed her ascend on the HPPL board, she has solely focused on developing the firm's undeveloped deposits, raising capital through joint venture partnerships and turning the leases into revenue-producing mines.
In 1993, she achieved the Roy Hill tenements. Gina has been the key leading figure in Australian mining since the mid-1990s.
Since the beginning of the 2000s, she has been behind international joint ventures between HPPL as well as companies in India, South Korea and other Asian countries. The biggest piece of her fortune comes from the Roy Hill mining project, which started shipments to Asia in 2015.
The aforementioned Gina Rinehart facts reflect her becoming the wealthiest businesswoman. However, there is another side to the billionaire iron woman. Following is a list of 10 unfamiliar Gina Rinehart facts that encircled major media headlines in the past.
Unraveling 10 Unknown Gina Rinehart Facts
During her fight with Rose over her late father's estate, Gina was found to have paid, through a private investigator (upto $200 each) to inquest witnesses who offered testimony, much of it dubious.
After investigation, she was alleged of adultery, witchcraft, and attempted murder-for-hire.
In 2011, Gina's daughter, Hope Rinehart Welker, commenced a commercial action in the New South Wales Supreme Court for reasons understood to be related to the conduct of the trustee. The action sought to remove Hope as the sole trustee, and later, her brother, John, and sister, Bianca, were revealed as parties to the dispute.
As a leader in the mining industry, Gina is opposed to government regulation and concerned that high wages, high taxes and restrictions on foreign investment have a negative impact.
To counter these concerns, Gina has founded the group Australians for Northern Development and Economic Vision (ANDEV) and is the Chair of the same.
In an exchange of letters between father and daughter that later surfaced in court during her fight with her stepmother, Gina told Lang that he had become a laughingstock.
In those letters, Lang bitterly asked Gina to "allow me to remember you as the neat, trim, capable and attractive young lady" that she had been, rather than "the slothful, vindictive and devious baby elephant that you have become." She was "grossly overweight," he wrote. "I am glad your mother cannot see you now."
According to Gina's biography by Adele Ferguson, "Gina Rinehart: The Untold Story of the Richest Woman in the World," Gina's second husband Frank was convicted of tax fraud in the U.S. and disbarred.
Gina is publicly known for visiting girls' orphanages in Cambodia.
She is on the expert advisory board of SISHA, a Cambodian non-profit organization campaigning against human trafficking, in particular by rescuing and assisting sexually exploited women and children.
Also Read: Interesting Facts about Bernard Arnault, who momentarily dethroned Jeff Bezos as the richest man in the world