Interior design companies are integral in the art of enhancing living and working spaces. They are the creative visionaries who transform ordinary rooms into environments aligned with client preferences and practical needs.These companies create seamless, inspiring interiors, weaving color, furniture, lighting, and decor with meticulous attention to detail and ingenuity. In this blog, we'll take a round into the realm of interior design companies, having a walkthrough of their ability to craft innovative designs and deliver customized solutions, ensuring every space becomes a genuine reflection of individual style and comfort.
Here are the Top Interior Design Companies
1. Perkins & Will
Founding Year: 1935
Headquarters: Chicago, Illinois
Founder: Lawrence B. Perkins and Phillip Will Jr.
Perkins & Will stands as a renowned global architecture and design firm. They operate in 20 global cities, handling diverse projects in commercial, healthcare, education, and civic construction.
Renowned for innovative, sustainable design, they've earned accolades like the AIA Firm Award, AIA Gold Medal, and National Design Award.
In recent times, Perkins & Will has made its mark through high-profile endeavors, including the groundbreaking Googleplex in Mountain View, California, the Salesforce Tower in San Francisco, and the iconic Louvre Abu Dhabi in the United Arab Emirates.
Boasting a workforce of over 1,500 employees and an annual revenue exceeding $500 million, Perkins & Will presently ranks as the world's largest architecture firm. Architectural Record magazine has consistently ranked them as the top architecture firm in the United States, with an impressive second-place ranking for the past decade. Some of their notable projects include the University Of Virginia University Hospital Expansion and Destination Crenshaw. Perkins & Will's unwavering commitment to innovative, sustainable design continues to shape the global architectural landscape.
2. AECOM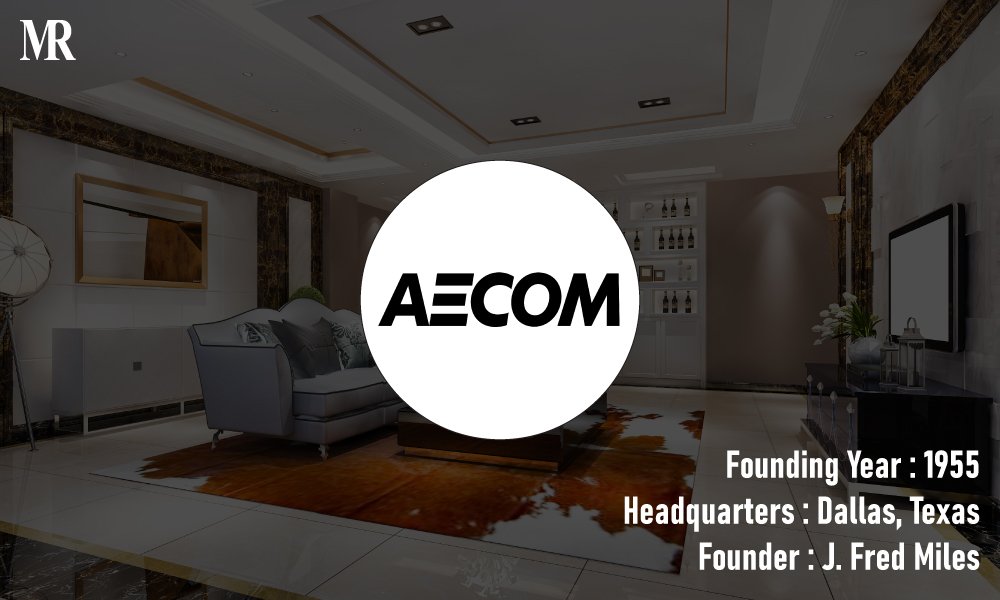 Founding Year: 1955
Headquarters: Dallas, Texas
Founder: J. Fred Miles
AECOM, a global infrastructure consulting firm, delivers professional services in architecture, design, planning, engineering, and construction management. As an American Engineering Company, it has since grown into one of the world's largest engineering firms. AECOM employs over 80,000 people across 150 countries.
In its early years, AECOM focused on water and wastewater projects before expanding into transportation, energy, and environmental engineering. International offices followed in the 1950s and 1960s, and rapid growth continued through mergers and acquisitions in the 1970s and 1980s.
Today, AECOM is a leading global infrastructure consulting firm, serving governments, private companies, and non-profit organizations worldwide. Their extensive portfolio includes iconic projects like the Panama Canal, Golden Gate Bridge, and the Burj Khalifa, alongside ongoing ventures like London's Crossrail and New York City's Second Avenue Subway.
AECOM's excellence is reflected in numerous awards, including recognition as one of the "World's Best Workplaces" by Fortune magazine and as one of the "Top 100 Engineering Firms" by Engineering News-Record. Notable projects such as the Panama Canal expansion, Second Avenue Subway, Crossrail, and the Burj Khalifa underscore their commitment to delivering complex infrastructure projects successfully.
3. Gensler
Founding Year: 1965
Headquarters: San Francisco, California
Founder: M. Arthur Gensler Jr., Drue Gensler and James Follett
Gensler, a global architecture, design, and planning firm, boasts over 6,000 professionals in 53 locations worldwide, spanning the Americas, Europe, Greater China, Asia Pacific, and the Middle East. The firm initially focused on interior design for commercial spaces but soon expanded into architecture, planning, and branding. Notable projects include the Bank of America headquarters in San Francisco (1979), the Apple Park headquarters in Cupertino, the Shanghai Tower, and the Bloomberg European headquarters in London.
Today, Gensler stands as one of the world's largest and most respected design firms. With a global presence, it caters to a diverse clientele, including Fortune 500 companies, government agencies, and educational institutions, committed to creating sustainable, innovative spaces that meet client and employee needs.
Gensler's work has earned numerous accolades, including the American Institute of Architects (AIA) Gold Medal and AIA Firm Award, as well as a place in the Interior Design Hall of Fame. It has also been lauded as one of the world's best places to work by Fortune magazine and Fast Company. Notable projects include the Shanghai Tower, the Salesforce Tower in San Francisco, and the New York Times headquarters.
4. Yabu Pushelberg
Founding Year: 1983
Headquarters: Toronto, Canada
Founder: George Yabu and Glenn Pushelberg
Yabu Pushelberg is a distinguished Canadian design firm celebrated for its innovative and luxurious creations in hotels, restaurants, retail spaces, and offices.
Beginning as a small Toronto-based firm specializing in furniture and lighting, they expanded into interior design in the early 1990s and quickly made a name for themselves in high-end hotel and restaurant design. In 2000, they extended their reach to New York City.
Today, Yabu Pushelberg holds a prominent position in the design world with offices in Toronto, New York, and London, boasting a dedicated team of over 100 professionals. Their designs have graced the pages of Architectural Digest, Interiors, and The New York Times.
The firm has garnered numerous awards, including the American Institute of Architects Gold Medal and the James Beard Award for Restaurant Design. Their consistent inclusion in Architectural Digest's AD100 list for over a decade attests to their excellence.
Yabu Pushelberg's portfolio includes iconic projects like the Four Seasons Hotel in New York City, The Ritz-Carlton Hotel in Hong Kong, the Bergdorf Goodman flagship store in New York City, the Louis Vuitton flagship store in London, and the Ippudo ramen restaurant chain. Their designs are celebrated for their elegance, sophistication, and meticulous attention to detail, creating spaces that seamlessly blend luxury and warmth, earning acclaim from critics and clients alike.
5. Rockwell Group
Founding Year: 1984
Headquarters: New York
Founder: David Rockwell
Founded by theater designer and architect, Rockwell Group initially found its footing in Broadway set and TV commercial designs. However, the early 1990s marked the expansion of their horizons into restaurant, retail, and hotel designs. Rockwell Group, a design icon, spans globally with 250+ employees, offices in NY, LA, Madrid, and projects in 25+ countries. Clients like Google, Facebook, and Nike have sought their expertise.
Rockwell Group's achievements include the National Design Award from Cooper Hewitt and the AIGA Medal, receiving high praise. It has also been featured in publications like The New York Times, The Wall Street Journal, and Architectural Digest.
Their iconic designs include the Googleplex headquarters in California, the Museum of Pop Culture in Seattle, and The Shed in New York City. Rockwell Group excels in creative, practical designs for global restaurants, hotels, and retail spaces, seamlessly blending aesthetics with functionality.
Interior design companies are essential in crafting personalized and functional spaces. They blend creativity and expertise to transform empty areas into customized sanctuaries, whether it's a home or a workspace. Their focus on aesthetics and functionality enhances our surroundings, making them more enjoyable and practical. These firms are a crucial part of the design industry, consistently adding value and beauty to every project they tackle.
Also Read: Exploring the World of Investments: Understanding Different Types of Investment