Do you have any idea about the richest woman in the world? Well, Julia Margaret Flesher Koch is the third richest woman in the world and has been recently ranked in Forbes' 36th annual list of World's Billionaires. Since then, many of you might be wondering what her life journey is, what kind of person she is in daily life. When the whole world is buzzing around her and she has become an excellent example of women empowerment, you should know these lesser-known Julia Koch facts and get inspired by her life story.
The early life
Julia is an American socialite and philanthropist who inherited her fortune from her late husband David Koch. After her husband's death in 2019, she owned $18 million mansion near "Billionaire Lane" in Southampton. Thereafter, she worked hard to lead the family business and focused on philanthropic activities.
Julia Margaret Flesher comes from a nominal family background and has experienced a usual childhood just like any other middle-class child. She completed her graduation from the University of Central Arkansas and pursued her dream to become a fashion designer. After meeting David Koch for the first time she said, "I'm glad I met that man because now I know I never want to go out with him." However, she had a chance to meet him again at one party where her opinion changed from the earlier one, and decided to marry him. Thereafter, she spent years with David while living in an apartment at 1040 Fifth Avenue. Later on, they moved to an 18-room duplex at 740 Park Avenue and bought an eight-bedroom townhouse in Manhattan.
Julia Koch Facts: 
Julia is the daughter of Margaret and Frederic Flesher. As per New York Times, her parents owned a furniture store. They shifted to Arkansas when she was eight years old where her parents opened a beautiful clothing shop. 
She moved to New York City in the 1980s where she worked as an assistant to fashion designer Adolfo. Furthermore, she had experience working with high-profile clients, for example, First Lady Nancy Reagan.
She got married to David in 1996, whom she met on a blind date in 1991. David Koch was the former executive and co-owner of Koch Industries, one of the largest closely held companies in the U.S. by revenue.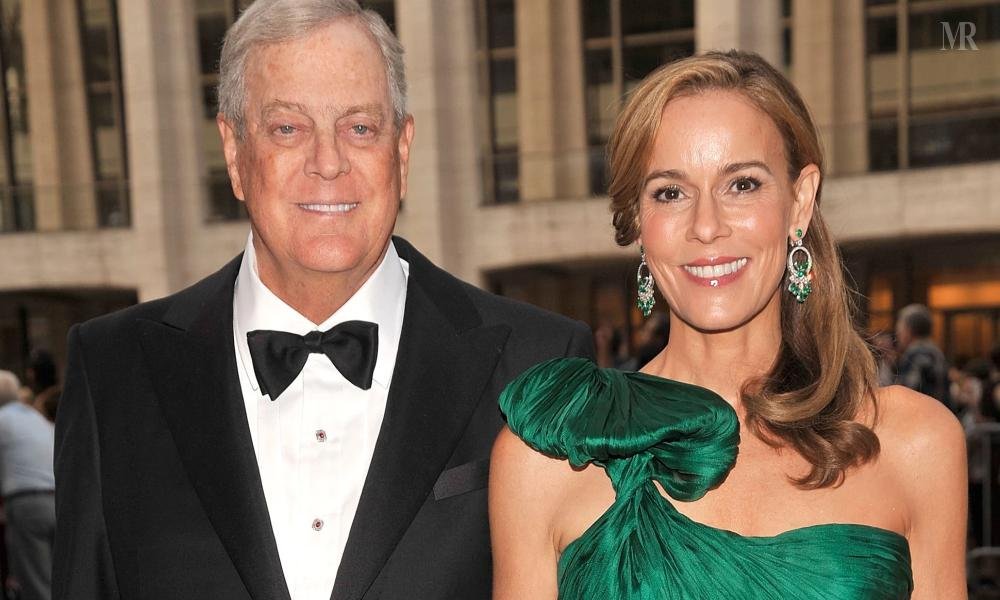 She made her "New York society debut" as co-chair of the Met Gala in 1997, along with Anna Wintour and Patrick McCarthy.
Bloomberg estimates her and her family's net worth to be USD 58.4 billion. Forbes, on the other hand, estimates their wealth to be even higher, at USD 61.9 billion. Julia Koch and her three children acquire a 42% stake in Koch Industries from her husband, David moreover, he died in August 2019 at age 79. 
After the death of her husband, she donated $10 million to Mount Sinai Medical Centre and USD 10 million to Stanford Children's Hospital to study food allergies as part of the charity.
Koch family owns the Koch Industries, and it is the largest company in the United States based on revenue (USD 115 billion). 
The Koch Institute for Integrative Cancer Research at MIT is contributing enough in the area of research and development. For example, precision medicine, Nano-based drugs, metastasis, etc. The institute has recently contributed to COVID-19 research and innovations in patient treatment.
Julia has also chaired events for Memorial Sloan Kettering (MSK) Cancer Centre, the Food Allergy Initiative (now Food Allergy Research & Education), and American Ballet Theatre.
Julia serves on the boards of Koch Industries and Memorial Sloan Kettering Cancer Centre. She's also president of the David H. Koch Foundation, which has made grants in excess of USD 200 million for science and medical research, education, arts, and public policy. 
As a president of the Foundation, Julia oversees her late husband's legacy contributions that have allowed the following organizations to continue their essential work and pivot their focus to combating COVID-19 through both patient care and medical research. 
That sums up 11 amazing Julia Koch facts along with a few insights about her biography. As she says, "Not friends, not enemies, just strangers with some memories" Julia Koch prefers to keep her personal life quite private and isolated. She is the one who does not seek public attention and believes in devoting her life to family and art. We hope you enjoyed reading these Julia Koch facts.
Also Read: 25 Alice Walton Facts Illuminating Her Life and Success