Logistics involves efficiently and effectively planning, implementing, and controlling the movement and storage of goods and services from their origin to the point of consumption, playing a pivotal role in the global economy by facilitating smooth trade, improving customer satisfaction, and reducing operational costs. According to a report from Allied Market Research, the global logistics market had a value of $9,833.8 billion in 2022 and is expected to reach $16,794.7 billion by 2032, with a Compound annual growth rate of 5.6% from 2023 to 2032. The ranking of these companies depends on various factors, including revenue, market share, service quality, customer satisfaction, innovation, sustainability, and social responsibility. In this blog post, we will explore the top 10 logistics companies worldwide, highlighting their offerings in terms of services, industries served, features, and benefits.
1. UPS
Founder: James E. Casey, Claude Ryan
Foundation Year: 1950
Headquarters: Atlanta, Georgia, USA
Founded in 1907 as the American Messenger firm, UPS has evolved into the world's largest package delivery company. Over the years, UPS has expanded its services to encompass air freight, consolidated service, and international shipping. In 1988, UPS launched UPS Airlines, and in 1975, it relocated its headquarters to Greenwich, Connecticut. In 2001, UPS acquired Mail Boxes Etc., Inc., which later became The UPS Store. Today, UPS operates in more than 220 countries and territories, delivering over 25 million packages daily.
For large businesses, UPS offers the Quantum View app, which provides an accurate order tracking system, streamlining the management of incoming and outgoing deliveries. Leveraging its extensive experience in managing multiple languages and time zones across various carriers, therefore, UPS ensures seamless operations. With 24 million shipments delivered worldwide each day, the UPS Traceability app offers a well-organized customs clearance interface, simplifying international freight logistics.
Key Benefits of UPS
UPS boasts a global network spanning over 220 countries and territories, granting customers access to a wide array of shipping options.
It provides a comprehensive suite of shipping services, encompassing ground shipping, air shipping, and international shipping. Additionally, the company offers various value-added services, such as tracking, insurance, and customs clearance.
The company is at the forefront of technological innovation in the shipping industry. Additionally, its website and mobile app empower customers to track their shipments, manage their accounts, and create shipping labels.
UPS is dedicated to delivering excellent customer service, moreover, with a team of dedicated customer service representatives available to assist customers with their shipping needs.
As of October 2023, United Parcel Service (UPS) holds a market capitalization of $118.09 billion, ranking as the 93rd most valuable company globally by market capitalization.
2. FedEx
Founder: Frederick W. Smith
Foundation Year: 1971
Headquarters: Arkansas, USA
In 1971, Federal Express Corporation was founded in Little Rock, Arkansas, by Frederick W. Smith, a Yale graduate who harbored a vision for expedited deliveries. Despite initial skepticism from his professor, Smith persisted and launched operations in Memphis in 1973. By 1983, the company had achieved a billion dollars in revenue, marking a significant milestone for a startup without mergers or acquisitions within its first decade. Expanding into Europe and Asia in 1984, FedEx solidified its position in the logistics industry by acquiring a major competitor, Flying Tiger Line, in 1988. Finally, in 1994, the company formally adopted the name "FedEx" for marketing.
FedEx offers a diverse range of adaptable and user-friendly packaging options, distinguishing itself from other companies. Furthermore, his logistics provider ensures prompt shipment status notifications and offers robust post-purchase customer support, including a proactive order tracking feature on the mobile app. Through FedEx Manager, customers can effectively manage pick-up services, enabling the rearrangement or rerouting of deliveries as needed. This feature sets FedEx apart from other logistics companies. Additionally, FedEx specializes in the safe handling of hazardous materials such as chemicals and toxic gases and provides specialized packaging solutions for products like lithium batteries.
Various tracking options, in addition to FedEx ShipAlert notifications for pickups, deliveries, and exceptions
Pricing for packages is available at both discounted and standard rates from a single-rate request, enabling users to anticipate shipping costs.
Customizable integration of the user interface with existing business systems, as well as convenient delivery of FedEx Express and FedEx Ground shipments to over 1,900 FedEx Office locations.
Flexibility to adapt and expand to meet evolving customer needs A single installation of FedEx Ship Manager Server can support numerous shipping origins, accounts, and meters, regardless of location.
FedEx Ship Manager Server is a transaction-based application without a predefined graphical user interface (GUI), allowing users to create an interface tailored to their specific needs and preferences.
Access to comprehensive user documentation, however, with detailed descriptions of all key features and transactions, facilitating a better understanding of customers' shipping activities through daily shipping reports.
All shipping functionality is integrated within the FedEx Ship Manager Server application; thus, eliminating the need for constant communication with FedEx systems for essential shipping functions.
In fiscal 2023, FedEx reported earnings of $21.9 billion in the fourth quarter and $90.2 billion for the entire year, distinguishing it from other companies. They returned $2.7 billion to their stockholders through stock repurchases and dividends, making them the top choice.
3. DHL
Founder: Adrian Dalsey, Larry Hillblom, Robert Lynn
Foundation Year: 1969
Headquarters: San Francisco, California, USA
In 1969, DHL was established in San Francisco by Adrian Dalsey, Larry Hillblom, and Robert Lynn. Moreover, they introduced an innovative concept to expedite customs clearance by delivering shipping documents via air. The 1970s marked the onset of significant global expansion for DHL, which continued to grow throughout the 2000s and 2010s, with a particular focus on e-commerce, supply chain management, and sustainability. By the 1990s, it had already become a logistics powerhouse spanning 220 countries and territories.
Today, DHL, one of the most prominent logistics companies, leverages modern warehouses to excel in both domestic and international shipping and distribution. To maintain the integrity of their business operations, they have conscientiously integrated security and safety protocols into their supply chain. Much like other leading companies, DHL remains committed to offering clients a comprehensive experience at competitive prices, embodying its dedication to service excellence.
Key Benefits of DHL
Simplified international shipping with door-to-door services and preferential pricing for businesses
Fast and secure deliveries, with options such as DHL Express Worldwide and same-day delivery,
Integrated shipping systems like MyBill and MyDHL+ streamline logistics for shipments of all sizes.
On-Demand Delivery (ODD) offers flexibility in delivery locations and times.
Extensive network and infrastructure, including a dedicated aircraft fleet, vigilant operations teams, and efficient customs clearance, especially for medical and express deliveries.
DHL prioritizes a customer-first culture, enabling the company to better understand and address clients' needs.
According to the latest reports from 2023, DHL, one of the foremost logistics companies, generated EUR 20.1 billion, i.e., $21.1 billion, in revenue in the second quarter of 2023, with an operating profit of EUR 1.7 billion. The company also raised its EBIT guidance for 2023 to a range of EUR 6.2 to 7.0 billion.
4. XPO Logistics
Founder: Mario Harik
Foundation Year: 2011
Headquarters: Greenwich, Connecticut, USA
Founded in 1989 as Express-1 Expedited Solutions, XPO Logistics initially entered the industry as an expedited trucking company. In the 1990s, the company strategically diversified into intermodal transportation, logistics management, and freight brokerage. By the early 2000s, a series of acquisitions positioned them as a leading North American logistics company, steadily expanding their global presence. In 2011, they rebranded as XPO Logistics, intentionally shifting their focus toward technology and contract logistics. Then, in 2021, a pivotal move occurred as XPO spun off GXO Logistics, retaining their less-than-truckload (LTL) transportation services.
Within this group of companies, XPO Logistics maintains one of the industry's most extensive networks, encompassing drivers, trucks, and terminals. They offer proactive order-tracking solutions, providing shippers with complete digital visibility. Furthermore, their services ensure a seamless experience by employing fully automated capabilities and dynamic rerouting for all order pick-up and delivery processes. In addition to improving productivity and cost optimization, XPO also offers data-driven analytics.
Key Benefits of XPO
First and foremost, XPO Logistics offers an extensive range of logistics services, covering transportation, warehousing, distribution, and customs clearance.
Furthermore, XPO has solidified its standing in international express, overland transport, air freight, ocean freight, and supply chain management.
Beyond this, the company remains firmly committed to research and solution development, continually harnessing the power of cutting-edge technology and embracing green logistics.
XPO also stands out by offering a tiered suite of customer care solutions. These options range from self-serve online tools to fully customized packages, incorporating proactive shipment monitoring, returns management, coordinated pickup management, and more.
With a global network that spans over 560 locations in 30 countries, XPO Logistics enables businesses to seamlessly deliver their products to customers across the world.
Additionally, the company demonstrates a robust commitment to technological advancement, allocating substantial resources to improve operational efficiency.
Moreover, as of October 2023, XPO Logistics commands a market capitalization of $8.29 billion, securing its position as the 1659th most valuable company globally. Market capitalization serves as a pivotal gauge of a company's worth, spotlighting its significance among logistics companies and in the broader business landscape.
5. Nippon Express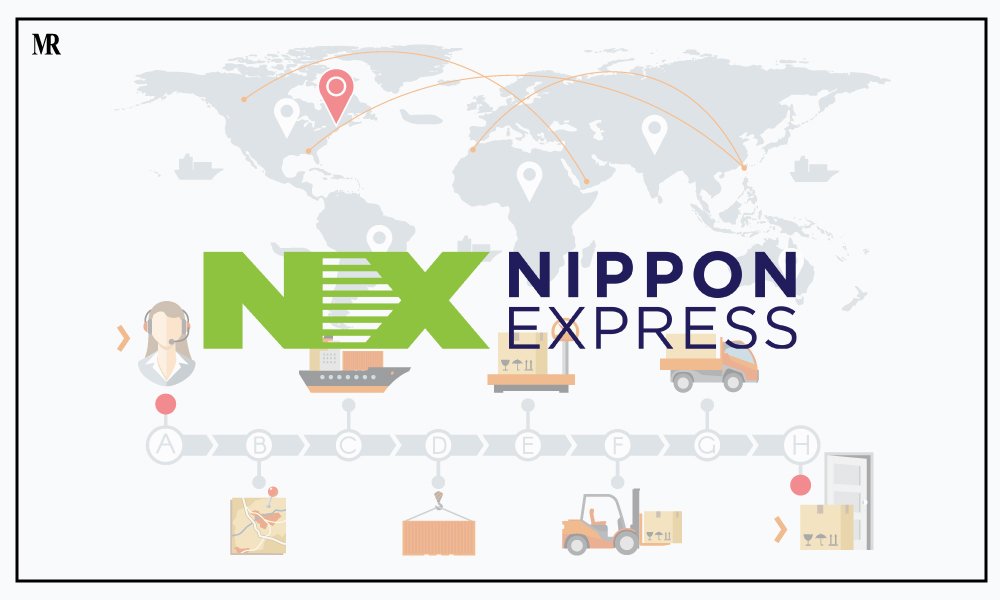 Founder: Kokusai Tsu-un KK
Foundation Year: 1937
Headquarters: Tokyo, Japan
The history of Nippon Express dates back to the establishment of its predecessor business, Riku-un Moto Kaisha, in 1872. Subsequently, after its privatization in 1950, Nippon Express initiated an international expansion phase, positioning itself as one of the leading logistics companies. It established operations in major cities worldwide. By the 1970s, Nippon Express had become Japan's top logistics service provider.
Over the following decades, the company strategically acquired logistics firms in the United States and Europe, significantly expanding its global presence. In the 1990s, Nippon Express focused on improving its information technology (IT) capabilities.In the 2000s, it diversified into new markets, including environmental logistics and e-commerce. Nippon Express specializes in providing strategic solutions for international transportation operations. Additionally, with an extensive global warehouse space of 5 million square feet, the company effectively caters to a diverse clientele.
Key Benefits of Nippon
With a presence in over 1,200 offices across 30 countries, Nippon Express offers customers access to a diverse portfolio of transportation and logistics services worldwide.
Nippon Express provides a comprehensive suite of logistics services, encompassing transportation, warehousing, distribution, customs clearance, and supply chain management.
Its expertise spans a wide range of industries, such as automotive, healthcare, and technology, enabling the company to deliver tailored solutions that precisely meet the unique needs of its clients.
Nippon Express is unwavering in its commitment to providing the highest levels of quality and customer service.
The company collaborates closely with customers to develop customized solutions that not only meet their logistical needs but also align with budgetary requirements.

As of October 2023, Nippon Express boasts a market capitalization of $4.44 billion, ranking it as the 2579th most valuable among logistic companies worldwide by market capitalization, according to our data.
In conclusion, the top five logistics companies have transformed the industry through their extensive networks, cutting-edge technologies, and unwavering commitment to efficiency. These industry frontrunners offer comprehensive solutions that encompass transportation, warehousing, supply chain management, and last-mile delivery. These services facilitate the smooth transit of products across borders and into the hands of consumers. They remain the cornerstone of international trade, fostering innovation and ensuring the uninterrupted flow of goods within our interconnected global economy.
Also Read: 10 Best Big Data Companies In Chicago