Prior to the popularity of social media, businesses used to advertise their products and services through newspapers and television advertisements. The cost of promotion was too costly to be borne by businesses. Also, the success of the promotions could not be effectively measured. With the growth of the internet, one is introduced to a variety of social media sites. Social media is a networking channel where people find existing and prospective clients, communicate with the entire world, share their ideas and create content on different sites. Furthermore, Social media is a powerful tool for business because it can help in generating business leads and also produce a brand image of the company. Along with that, businesses can now hope to reach a wider audience base by effective social media marketing through the various social media platforms. Since social media is low cost and the effects of social media marketing campaigns can be measured, there is an increase in the use of social media marketing among businesses.  Hence, companies want to be popular to boost their sales through social media. While social media has its own advantages, it also has some disadvantages. Social media, being a public forum should be handled with care because any information posted on it can go viral within a matter of seconds. Thus, here are some of the pros and cons of social media to help you decide whether social media is a boon or a bane for you.
Pros of Social media for businesses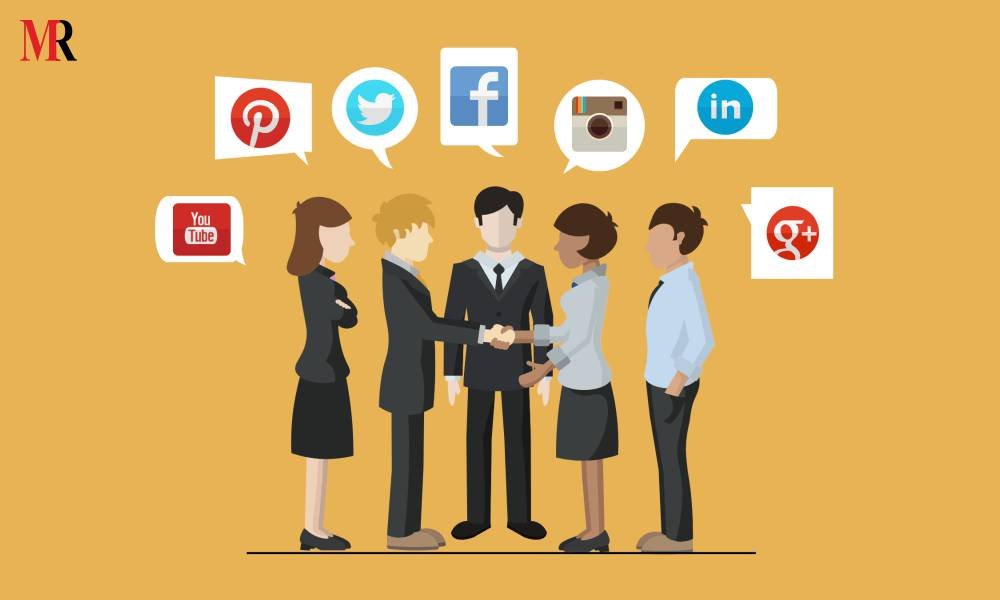 1. Build stronger relationships with existing and prospective customers
Social media helps to build a stronger relationship with prospective and existing customers on social media than any other channel. It is a two-way connection where you can communicate with them and get feedback on their products.
      2. Social media is low cost and effective
Social media is simply one of the best economic ways to market your business. If one wants to run a social media campaign for their business, the software is free and there are no subscription costs. Social media sites such as Facebook, Twitter, Instagram, LinkedIn and more are all free to join and use which means getting up and running with social media costs significantly less than almost any other marketing channel.
       3.  Social media helps businesses to be found on search engines
Social media gives businesses a chance to be easily found on search engines if they are active on search engines. When the customer searches for specific keywords or key phrases and your business uses keywords or phrases that are similar to those of the customer, then there is a chance that your business could be ranked in search engines such as Google.
       4.  Perfect way of promoting content
If a business is producing extraordinary content such as blogs, articles, Ebooks, and web content, then social media is the best way of publicizing one's work to the audience  Given the large amounts of content produced every single m on the Internet, one can't afford to leave the content to basic search to discover your business's extraordinary content. In that case, social media is an excellent way of getting the word out and publicizing your great content to a mass audience.
Cons of social media for businesses 
       1. Too much consumption of time to see desired results
While social media tools and software may be free or low cost, one needs to spend substantial amounts of time for a long period of time to see the desired results of their marketing campaign.
       2. Tough to keep up with the latest trends and best practices on social media
With social media evolving day by day, it could be a tough job just to keep up with the latest trends and current best practice.  The latest trends and best practices could range from the algorithm used by Facebook to pick which of your posts has to be displayed on your businesses social account, to the length of tweets on Twitter, or the user interface in LinkedIn. Every day, there are launches of new social media platforms and the older ones stop existing.This dramatically affects the planning and strategy of starting marketing campaigns on social media. One has to keep reviewing and revising these social media on an on-going basis in order to stay relevant and effective.
       3.  No control over the message and its distribution
Social media is not like other forms of marketing which allow you to control the message and its distribution. In other ways of marketing, you can be sure that only that the message is communicated and nothing else.  But on social media, once you release your message you also relinquish control on your message. The public will share the message, comment on it and add a lot of unnecessary things to your post.
        4. Social media could be a waste of time
Using social media professionally to promote a product or service takes time and commitment. But there is also a very real danger that you can become completely addicted by it. It's easy to stray across the line between engaging customers and prospects in friendly conversation and wasting time and chatting with friends about the latest movie or show on television. It should be ensured that your company time on social media stays focused and professional. Time spent on social media should have clear goals and time limits appropriate to the task.
Summarising, after researching all the facts, it can be concluded that social media has both its pros and cons. Social media is beneficial for businesses because It helps businesses to create low cost and effective social media marketing campaigns which help them reach existing and prospective customers. Along with that, it also allows them to interact with the customers and get feedback on their products. But it should be kept in mind that social media is a powerful tool when it is handled in a proper way. It's up to each one on how you utilize social media in order to achieve your goal. This will actually help you to determine whether social media is a boon or a bane for you.