There are a few business tycoons who have been distinguished as passionate personalities, not only in their individual countries but on a global level. They are the overachievers who were committed to influencing the world through their great work. These leaders have entered the industry via various domains and now are at the top of their fields. In this blog, we have enlisted a few overachievers in their respective fields, who are today an inspiration for all. 
The purpose of this blog is to feature such entrepreneurs who make a difference in the world by their contribution in the business field, which eventually would inspire others to follow the same footsteps. This blog gives future leaders the inspiration from which they can learn a lot of things, an idea about business strategies, and what they can give to the world. So we have chosen the list of top business tycoons who started from scratch and in 2020 are being watched by the whole world.
So, now let us go through World's Top 15 Business Tycoons
Jeff Bezos: CEO and Founder, Amazon
Jeff Bezos founded the e-commerce solution Amazon in 1994 in his garage in Seattle. He is of age 55 and has a net worth of US$108.2 billion that makes him the current world's richest person. He is a retail entrepreneur, investor, chairman, and CEO of Amazon, graduated from Princeton in Computer Science and Electrical Engineering.
Bezos's space company Blue Origin is working on launching and building reusable rockets. Blue Origin, SpaceX, Boeing, and NASA are jointly working on a project that is targeted towards 'Humans on Moon by 2024' mission, its colonies on Mars by the 2030s. This innovation makes a difference in the world and he is introducing many projects in robotics and space technology for future expansion.
"You have to be willing to be misunderstood if you're going to innovate." Jeff Bezos
Warren Buffett: CEO, Berkshire Hathaway
Warren Edward Buffett, Chairman, and CEO of Berkshire Hathaway is an American business tycoon born on 30 August 1930. He is the most successful investor in the world with a net worth of US$ 82.4 billion. He is also known as 'Oracle of Omaha'. He owns more than 60 companies that include insurer Geico, battery maker Duracell, and restaurant chain Dairy Queen. In 2010, he and Gates launched the 'Giving Pledge' asking billionaires to commit and donate half their wealth to a charitable trust.
Buffett's investment philosophy contributed to the world in a bargain-buying strategy for the generation of investors. He said, "If you're making a good investment in security, it shouldn't bother you if they closed the stock market for five years." He is a great role model for investors of the next generation.
"The most important investment you can make is in yourself." Warren Buffet
Mark Zuckerberg: Co-founder & CEO, Facebook
Mark Zuckerberg is the famous Co-founder & CEO of the social network Facebook. Recently, Facebook acquired the two most popular social networking & messenger apps called Instagram & WhatsApp respectively. Apart from this, Zuckerberg has also pledged to donate 99% of his Facebook holdings towards charity.
In an interview, Mark Zuckerberg spoke about how taking risks is important. This motivation emphasizes the point that one must take risks in order to succeed. "Not taking risk is the only strategy that's guaranteed to fail", said Zuckerberg. This strategy encourages us to follow him in the next coming years.
"By giving people the power to share, we're making the world more transparent." Mark Zuckerberg
Bernard Jean Etienne Arnault: Chairman, CEO of LVMH
Bernard Arnault is a French billionaire business tycoon and art collector. Arnault is the Chairman and Chief Executive of LVMH. He was a partner at Salomon Brothers, a Wall Street investment bank before he started his own company. In 1981, he launched Bloomberg L.P., information technology and media company that has now grown to be worth $100.2 billion with more than 100 offices worldwide.
LVMH's announced to bring new jobs to the U.S. The strategy is to generate 1,000 jobs in the next five years. To support this, Louis Vuitton is providing the educational training program to America's workers, which was launched last year. Bernard Arnault's contribution to providing high quality and traditional values to the world, inspires everyone to do the same.
"I like that combination between creativity and the creative process and the organization needed to make a business like this successful worldwide."  Bernard Arnault
Also read, Interesting Facts about Bernard Arnault
Larry Ellison: Founder and CTO, Oracle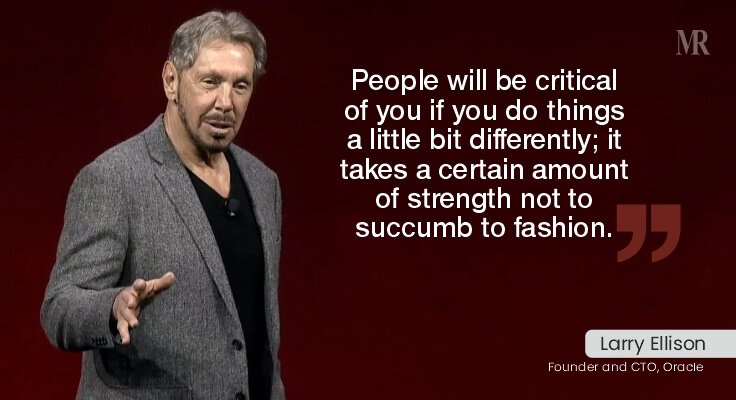 Lawrence Joseph Ellison is an American businessman, entrepreneur, and philanthropist who is a co-founder and the Executive Chairman and Chief Technology Officer of Oracle Corporation. Larry Ellison cofounded software firm Oracle in 1977 to tap into the growing need for customer relationship management databases.
In May 2016, Ellison pledged $200 million to the University of Southern California for a cancer treatment center. In the year of 2019, Larry Ellison introduced the world's first autonomous OS, Oracle Autonomous Linux on cloud. What makes him unique is his creative ideas and his thinking-out-of-the-box approach. So everyone needs to think as he said, "Don't be afraid to be different."
"People will be critical of you if you do things a little bit differently; it takes a certain amount of strength not to succumb to fashion." Larry Ellison
Elon Reeve Musk: CEO of SpaceX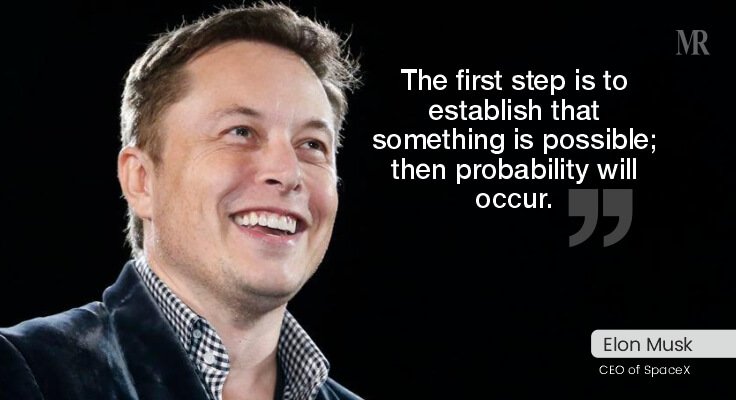 Elon Reeve Musk is a 47 years old South African born American businessman, an engineer who is the Founder, CEO of SpaceX, Co-founder and CEO of Neuralink, Co-founder, CEO, and product architect of Tesla Motors. His net worth is US$19.9 billion. In October 2002, Musk earned his first billion when PayPal was acquired by eBay for $1.5 billion in stock. Before the sale, Musk owned 11% of PayPal stock.
In Oct 2019, Tesla announced Solar system engine to save utility bills of home. Musk talked in San Francisco event about the SpaceX project to launch Starlink which would offer satellite internet to consumers in mid-2020. Neuralink Co-founded by Elon has been trying to test the human brain by system interface, to help people who have a brain or spinal cord injuries. This technology is anticipated to start testing human brains in 2020. Elon is proffering these innovative products to the world, which are helping humankind and are inspiring each and everyone to follow him in the coming years.
"The first step is to establish that something is possible; then probability will occur." Elon Musk
Carlos Slim Helu: Chairman, America Movil
Mexican business tycoon Carlos Slim Helu is the richest person in Mexico and owns more than 200 companies in industries ranging from banking to retail to telecommunications. The 78-year-old owns America Movil, the largest mobile phone company in Latin America and Grupo Carso Conglomerate Company, which includes a host of retailers and restaurants, among other companies. He is the fifth richest man in the world.
Slim is part of the group of entrepreneurs that participates in the drafting of the national infrastructure program (PNI) 2019-2024. He is supporting President of Mexico in fighting corruption and promoting economic growth.
"All times are good times for those who know how to work and have the tools to do so." Carlos Slim Helu
Mukesh Ambani: Chairman, MD Reliance Industries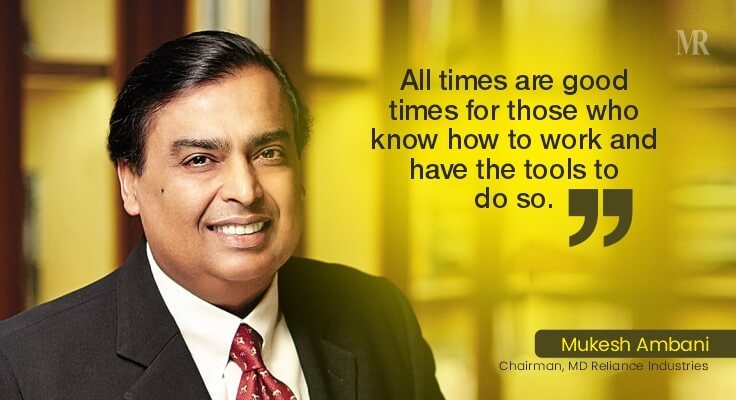 Mukesh Dhirubhai Ambani is an Indian business magnate, the Chairman, Managing Director, and largest shareholder of Reliance Industries Limited. Reliance was founded by his late father Dhirubhai Ambani, a yarn trader, in 1966 as a small textile manufacturer, today it is a Fortune Global 500 company and India's most valuable company by its market value of net worth $53 billion.
In 2016, Reliance sparked a price war in India's hyper-competitive telecom market with the launch of 4G phone service Jio. Jio has signed on more than 340 million customers by offering free domestic voice calls, dirt-cheap data services, and virtually free smartphones. Recently, Ambani announced a plan to build an online e-commerce platform to focus on data and digital services for future growth.
"Everybody has equal opportunity and I think that is true for everything." Mukesh Ambani
Evan Spiegel: CEO Snap Inc.
Evan Thomas Spiegel is an American businessman who is the Co-founder and CEO of the American multinational technology and social media company Snap Inc., which he created with Bobby Murphy and Reggie Brown while they were students at Stanford University. Spiegel was named the youngest billionaire in the world in 2015.
Snapchat had announced its redesign in 2019, now the app comprises of a news feed feature that is separating social from media and is strengthening the relationship with friends and media. He is working towards the future as he recently released AR lenses and Lens studio. This has mapping technology for land makers introduced in 2D and 3D content.
"It's important to be thoughtful and mindful about the things you say to other people." Evan Spiegel
Brian Chesky: Co-founder & CEO Airbnb
Brian Joseph Chesky is an American billionaire Internet entrepreneur who Co-founded the peer to peer lodging service Airbnb. Chesky is the CEO of the company and was named one of Time's "100 Most Influential People of 2015" with net worth $ 3.8 billion at the age of 38. Chesky is CEO of Airbnb, which is been used by more than 500 million people in over 100,000 cities in 191 countries.
In the upcoming years 2020, Brian Chesky revealed partnering two companies to change in the hotel industry in New York City. Airbnb connects travelers who are looking for reliable experiences with unique, inspiring spaces around the world.
"Never assume you can't do something. Push yourself to redefine the boundaries." Brian Chesky
Sergey Brin: President Alphabet & Co-founder Google
Sergey Mikhaylovich Brin is an American computer scientist and Internet entrepreneur. Together with Larry Page, he Co-founded Google. Brin is the president of Google's parent company Alphabet Inc.
As of October 2019, Brin is the 10th-richest person in the world, with an estimated net worth of $53.8 billion. He spends his time on Alphabet's moonshot research lab X. Brin is reportedly funding a high-tech airship project.
"Any conversation I have about innovation starts with the ultimate goal." Sergey Brin
Michael S. Dell: CEO of Dell Technologies
Michael Saul Dell is an American billionaire businessman and philanthropist. He is the Founder and CEO of Dell Technologies, one of the world's largest technology infrastructure companies. He is ranked as the 27th richest person in the world, with a net worth of $31.0 billion at the age of 54 years. The estimated $60 billion Dell-EMC merger, which was finalized in 2016, was the largest technology acquisition ever.
In May 2017 Dell donated $1 billion to his foundation, which focuses on child poverty; it makes both impact investments and charitable donations. On the stage of Dell Technologies World 2019, Michael Dell announced combining innovations of Dell EMC, VMware and Pivotal to create developer-friendly, automated, intelligent and efficient cloud architecture for long term goals of the business.
"Each day that you're moving toward your dreams without compromising who you are, you're winning." Michael Dell
Shantanu Narayen: CEO, Adobe Systems
Shantanu Narayen is an Indian American business Executive, Chairman, President, and CEO of Adobe. Narayen was born in Hyderabad, India, and came to the U.S. to pursue a Master's degree at Bowling Green State University. He joined Adobe in 1998 and became its CEO in 2007. Prior to finding success at Adobe, he was a product developer at Apple and Co-founded a photo-sharing startup called Pictra. In 2011, President Barack Obama appointed him in the President's Management Advisory Board. 
Adobe provides digital media and marketing services with the advancement of cloud technology. The company is moving its creative software development from desktop to cloud. Shantanu Narayen is passionate about product innovation and drives Adobe's business globally. In 2019, Adobe 18 upgraded CC desktop applications and announced that a creative cloud subscription will be there for the user.
"Being transparent about our plans enables us to get better feedback". Shantanu Narayen
Ben Silbermann: Co-founder & CEO of Pinterest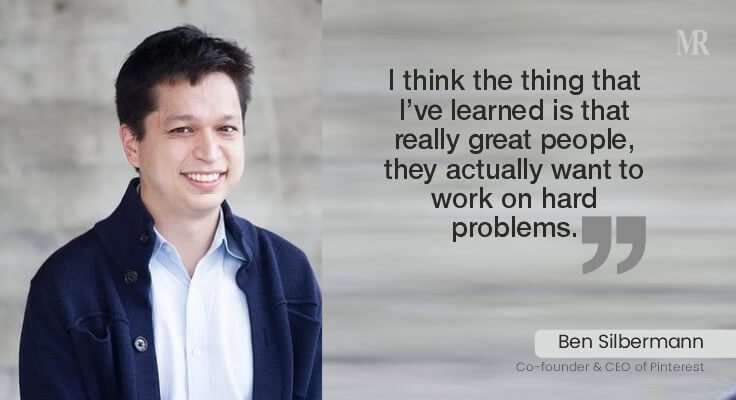 Ben Silbermann is an American billionaire Internet entrepreneur. At the age of 37 years, he has a net worth valued at $ 1.5 billion. He is the Co-founder and CEO of Pinterest, a visual discovery engine, which lets users organize images, links, and recipes.  Pinterest lets users save and share image collections from recipes to hairstyles to crafts and home decor through their mobile phones or computers.
In the year 2019, Silbermann said, "Pinterest wants to be in anti-social media platform which allows users to pin pictures from web to personal board with an aim to get people offline." These types of creative ideas are made by him for the future long term growth of the company.
"I think the thing that I've learned is that really great people, they actually want to work on hard problems." Ben Silbermann
Marc Benioff: Founder & CEO, Salesforce
Marc Russell Benioff is an American Internet entrepreneur, author and philanthropist with a net worth of $6.5 billion as of July 2019. He is the Founder, Chairman, and CEO of Salesforce, an enterprise cloud computing company. Before Salesforce, he spent 13 years at the database Oracle and held a variety of executive positions. At 23 he became the Vice President of Oracle, the company's youngest person to hold this title.
From his work in the tech industry, he brings value to work and a platform for change. Salesforce is a pioneer in hosting its software online, rather than installing it in clients' computer systems. In this era of technology, every company is following the Salesforce tool for their various types of work.  In early 2019, Benioff Salesforce has done the biggest acquisition of MuleSoft and Time Magazine.
Also read: Marc Benioff Quotes on Entrepreneurship
"You must always examine what's working, evolve your ideas, and change the way you do things."  Marc Benioff
All the Business tycoons listed above are great personalities and have worked hard all their lives to achieve their goals. They still continue to work hard to maintain those positions which they have globally. These men are a great source of inspiration for all the young entrepreneurs around the globe.