Welcome to our latest blog post on eSports! The world of electronic sports or games is rapidly growing and becoming increasingly important for the business landscape. Electronic sports are becoming a significant player in the entertainment industry, ranging from professional gaming tournaments to streaming platforms. In 2022, its market value was worth more than 1.38 billion US dollars and can grow to as high as 1.87 billion dollars by 2025. In this blog post, we dive into the basics of eSports, including its history, popular types, and the current state of the industry. We also look at the various business opportunities in electronic sports and their potential benefits.
By the end of this post, you will have a better understanding of what eSports is, why it matters to businesses, and how you can take advantage of this exciting industry.
Understanding the Basics
To fully understand the opportunities presented by this growing industry, one must first understand what eSports is and where it originated. eSports, short for electronic sports, is competitive video gaming at a professional level. It is a form of competition where players, either individuals or teams, compete against each other in various video games. Understanding the basics and the current state gives you a better understanding of the opportunities that are available for businesses in this space.
History of Electronic Sports
The origins of electronic sports can be traced back to the 1970s and 1980s when arcade games or LAN parties began to gain popularity and players would compete against each other for high scores. However, it was not until the 1990s and 2000s, with the rise of the internet, online gaming, and online streaming platforms that eSports truly began to take off.
Types of Electronic Games
There are different types of electronic games, each with its own unique characteristics and player base. Each game has its unique set of rules and gameplay, and each community has its own culture and terminology. Here is a list of some of the most popular electronic games:
Dota 2
First-person shooters (FPS)
Counter-Strike: Global Offensive
Call of Duty
Multiplayer Online Battle Arenas (MOBA)
League of Legends
Fortnite
StarCraft II
Player Unknown's Battlegrounds (PUBG)
FIFA
NBA 2K
Current State of the Market
In 2022, the worldwide eSports audience size reached 532 million viewers and is expected to reach over 640 million by 2025, worldwide.
Asia and North America currently represent the largest e-games market in terms of revenue, with China alone accounting for almost one-fifth of the market.
In terms of revenue, China claimed the largest portion of the eSports market revenue of 360.1 million dollars, in 2021.
By 2025, it is expected that there will be over 318 million electronic sports users worldwide, up from 215.2 million in 2020.
Opportunities for Businesses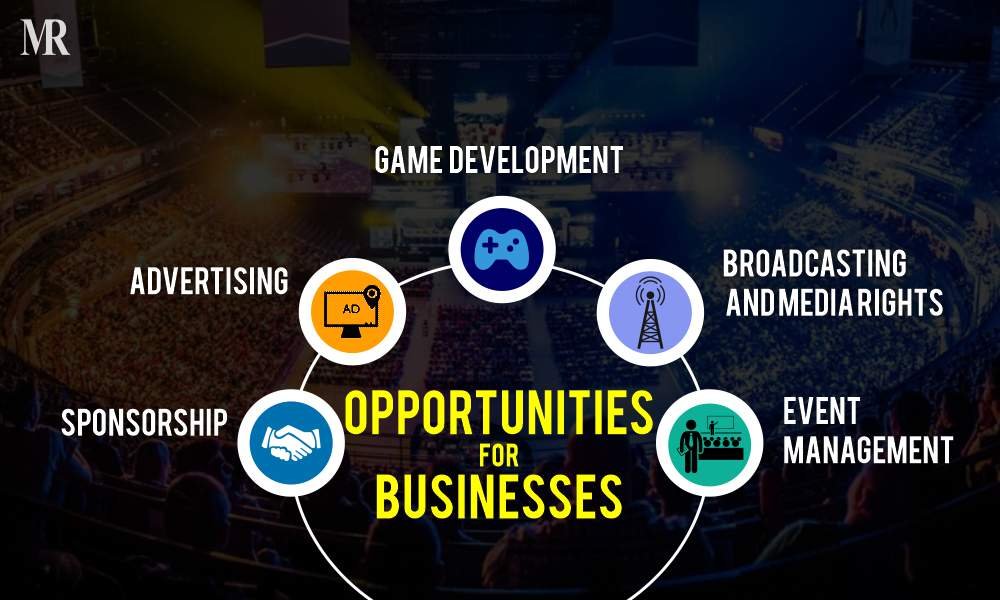 As the eSports industry continues to grow, it presents a wealth of opportunities for businesses looking to tap into a highly engaged and lucrative market. Here are some proven ways through which businesses can participate in.
1. Sponsorship
One of the most popular ways for businesses to get involved in eSports is through sponsorship. It includes sponsoring an individual player, a team, or even an entire league. Sponsorship offers businesses the opportunity to reach a highly engaged and dedicated audience, and it can also provide valuable brand exposure.
2. Advertising
Companies can place advertisements in online games, on websites, and in live events to reach a targeted audience. In-game advertising is a revenue strategy used by game developers to earn money by selling ad space in their games, such as banners, pop-up ads, or branded in-game items. The website and live event advertising can be more traditional, such as billboards or product placements. Such type of advertising allows companies to reach a highly engaged and passionate audience who are interested in gaming and eSports.
3. Game Development
Businesses can develop and publish their own games, or partner with game developers to create games with built-in marketing opportunities. It includes branded in-game items, characters, levels, or even entire games based on a company's products or services. Traditional advertising methods make it difficult for businesses to reach a younger, tech-savvy audience. Creating e-games, on the other hand, can provide a platform for businesses to easily access them.
4. Broadcasting and Media Rights
One of the popular ways to participate in eSports is to buy the rights to broadcast gaming events and competitions. It includes live-streaming events on popular platforms such as Twitch, YouTube, and Facebook, or producing video content such as highlight reels, interviews, and behind-the-scenes footage. Selling broadcasting rights to traditional media outlets, such as television networks, can increase exposure and reach for both the event and the company.
5. Event Management
Another way for businesses to get involved in this lucrative market is by organizing and hosting large-scale e-gaming events and competitions. Sponsorship, advertising, and ticket sales are all possible at such events. It includes events held in physical venues, such as arenas and convention centers, or virtual events hosted online. Event management companies can also provide a range of services, such as event planning, marketing, and technical support, making it easier for other businesses to participate in this growing industry.
In 2021, the largest share of eSports market revenue came from sponsorships and advertising. Overall, there are numerous opportunities for businesses to participate in electronic sports, whether it's through sponsorship, advertising, or organizing electronic sports events. By doing so, businesses can benefit from increased brand awareness and access to a highly engaged and lucrative demographic.
Coca-Cola's Success Story
Coca-Cola recognized the potential for growth in the eSports industry and began sponsoring tournaments, events, and teams. Its success story includes
Partnering with Riot Games, the creators of the game League of Legends, in 2014.
Launching the Coca-Cola Challenger Series that provides amateur League of Legends players with the opportunity to compete in a professional setting.
Collaborating with professional eSports teams such as Team SoloMid and Counter Logic Gaming.
Becoming a sponsor of the League of Legends Championship Series, the highest level of professional competition in the game.
In this blog, we have provided an overview of the basics of eSports and the opportunities it presents for businesses. We have covered everything from its history, the different types of games, the current state of the industry, and the various ways businesses can participate. We have also seen the successful example of Coca-Cola which has already entered the electronic sports space and experienced significant benefits. At last, we encourage you to consider how eSports might fit into your own marketing or business strategies.
Also Read: PS5 Arriving Soon! Let's look at the PlayStation History Timeline