OnePlus (Flagship killer Phone) is a subsidiary of BBK Electronics, which is the largest smartphone maker in China. OnePlus is itself based in China as well, in the city of Shenzhen.
It has two fathers, one is the famous and popular Carl Pei and the other is Pete Lau, who is a former vice president of OPPO. That is probably where the idea that OnePlus is a subsidiary of OPPO comes from, but things are a bit more complicated than that. Currently, OnePlus is serving in 34 countries worldwide. Not only OnePlus sells mobile phones, but various mobile accessories as well.
OnePlus was founded on 16th December 2013 by an ex-employee of OPPO Electronics, Pete Lau. The company is based in Shenzhen, Guangdong and has presence in 34 countries around the world as of March 2016. The co-founder includes Carl Pei. Initially, denying the claims that OnePlus is a subsidiary of OPPO, it was later revealed as per the Chinese government documentation that it is truly the wholly owned subsidiary of OPPO. Thus, technically making it a company owned by BBK Electronics, as OPPO is the sub brand of the Chinese multinational group.
Let us see how OnePlus evolved from OnePlus 1 to OnePlus 8–
OnePlus 1
There was lot of buildup in April 2014 launch of the OnePlus 1, which promised high-end specs at a mid-range price from a cool new startup. Overall, it delivered price range starting at just $250 – around half the cost of the top-end handsets of the time. The OnePlus 1 has sold over one million units, which was more than their expectation.
The great competitor of OnePlus 1 was Samsung Galaxy S5. There are various reasons why OnePlus 1 was better than Samsung Galaxy S5 like, cheaper price, same processor with low price, larger memory storage, larger screen display, 4G connectivity, and battery capacity.
OnePlus 2
After the success of OnePlus 1, OnePlus 2 arrived in July, 2015, took the success of its predecessor and built on it, with a stylishly updated design and more power. The price had made the product stood out in the market. Price of the product was $330. OnePlus 2 has sold around 5 million.
iPhone 6 was the greatest rivals of OnePlus 2 at that time. The 5.5 inch screen OnePlus 2 matches the size of Apple's iPhone 6 Plus, both are full HD. OnePlus 2 is having the highest ram than iPhone 6 plus,  and other features like better camera, high storage and long lasting battery life.
OnePlus X
The OnePlus 2 was revealed in July 2015, but the OnePlus X quickly followed it in October 2015. This was the first budgeted phone by OnePlus $250 in 2015. The 5-inch phone had a rather modest specs combination of a Snapdragon 801 and 3GB of RAM, and despite some design tweaks, we were left underwhelmed, advising readers to pay the extra cash and pick up the OnePlus 2 instead. OnePlus X was the flop phone of OnePlus.
Hyve Buzz was the competitor of OnePlus X, both the phones were good in performance and regular tasks. The processer of OnePlus X was 2.3 GHz quad-core, which was a way better than Hyve Buzz.
OnePlus 3
OnePlus was back in June 2016 with the OnePlus 3 with impressive display of 5.5-inch, 1920 x 1080 pixel, some other impressive specs – after the disappointment of the OnePlus X, this was a return to form.
The OnePlus 3 has better specs over the S7, except the display, which is Quad HD on the S7 but just Full HD on the OnePlus 3. In addition, the OnePlus 3 is almost half of the S7's price.
OnePlus 3T
This was when OnePlus started the "T" tradition – offering a second flagship with minor upgrades later in the year. OnePlus 3T a flagship killer phone was launched in November 2016, bringing with it a slight performance upgrade and a substantial battery boost over the preceding phone. The price did jump a little, with the improved OnePlus 3T starting at $440, but OnePlus was also getting better at making its phones more available outside of China.
In the same year, LG V20 was launched. In comparison to the LG V20, OnePlus 3T offered a much more control on the operating system whereas LG V20 would lock down.
OnePlus 5
OnePlus 5, which was carrying a Snapdragon 835 and up to 8GB of RAM, a dual-lens 16MP+20MP rear-facing camera was around the back. For the first time OnePlus had opted for a two-camera setup. Launched in June 2017, the OnePlus 5 first went on sale for a starting price of $480.
Definitely, OnePlus 5 a flagship killer phone performed much faster and smoother than the LG G6. This is because of the Snapdragon 835 on the OnePlus 5 whereas the LG G6 had Snapdragon 821, which was also powerful but not as much as Snapdragon 835.
OnePlus 5T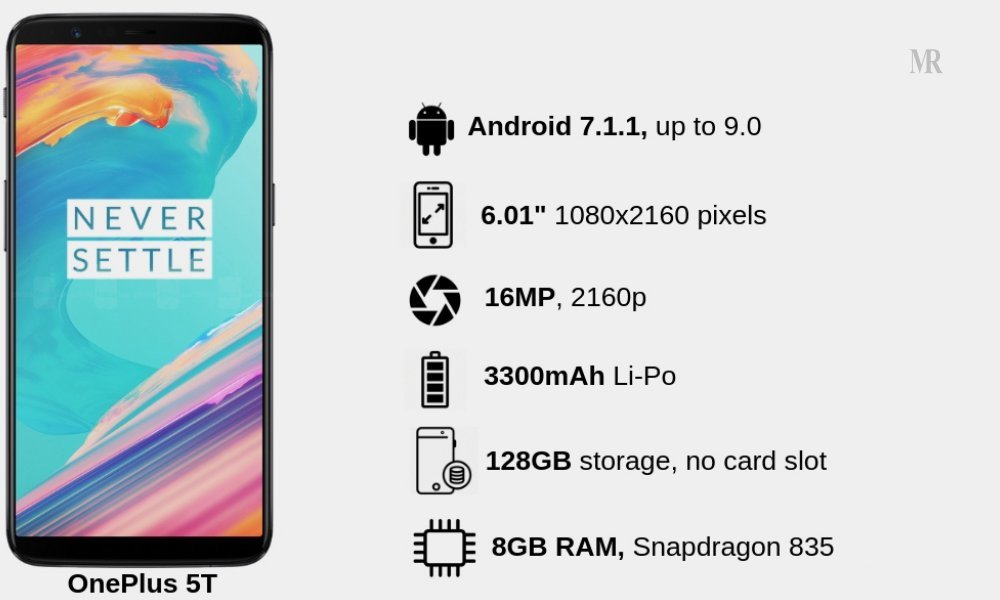 The OnePlus 5T arrived in November 2017. OnePlus 5T phone had an improved camera and a 6.01-inch screen with a resolution of 2160 x 1080 pixels, that 1080p limit remained. The starting price of OnePlus 5T was $479.
Google Pixel 2 was the greatest competitor of OnePlus 5T in 2017. Pixel 2 has no dual camera setup as that of OnePlus 5t and consists of single lens with 12 MP. Google has nailed the software processing; its camera shines in the night shots and low lighting. OnePlus wins the race with it affordable price and better processing.
OnePlus 6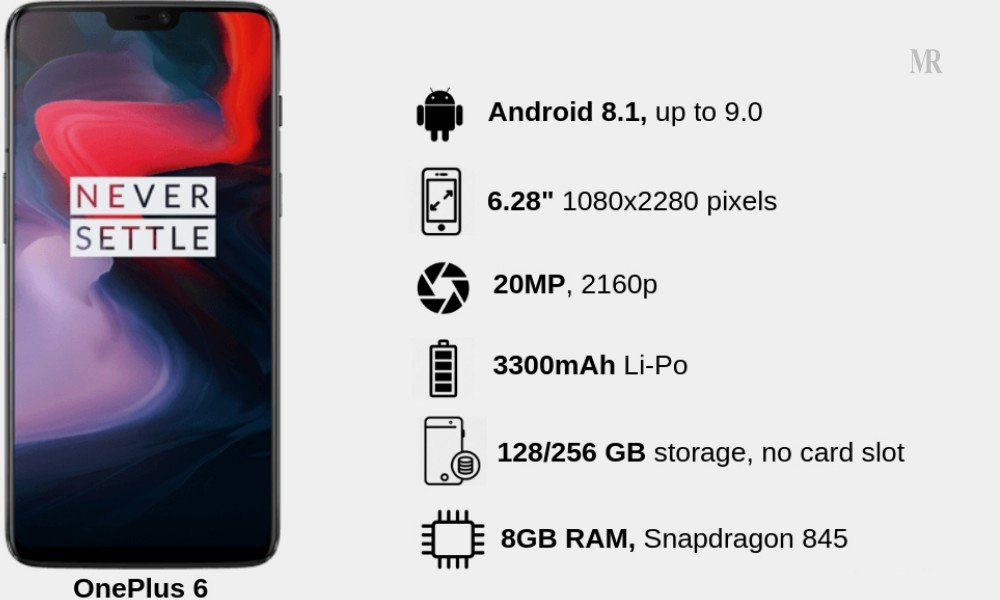 OnePlus 6 released in May 2018 – it carries a Snapdragon 845 and up to 8GB of RAM, and can score some seriously high scores in benchmark tests. It has an attractive display with 6.28-inch, 2280 x 1080 pixel display, and 16MP+20MP rear-facing camera onboard. Price of the product was $530.
Honour 10 was the competitor of this flagship killer phone – OnePlus 6. UI of OnePlus 6 is very much better than Honour 10 but the battery life of Honour 10 was better than OnePlus 6. OnePlus 6 wins the race as it has better UI.
OnePlus 6T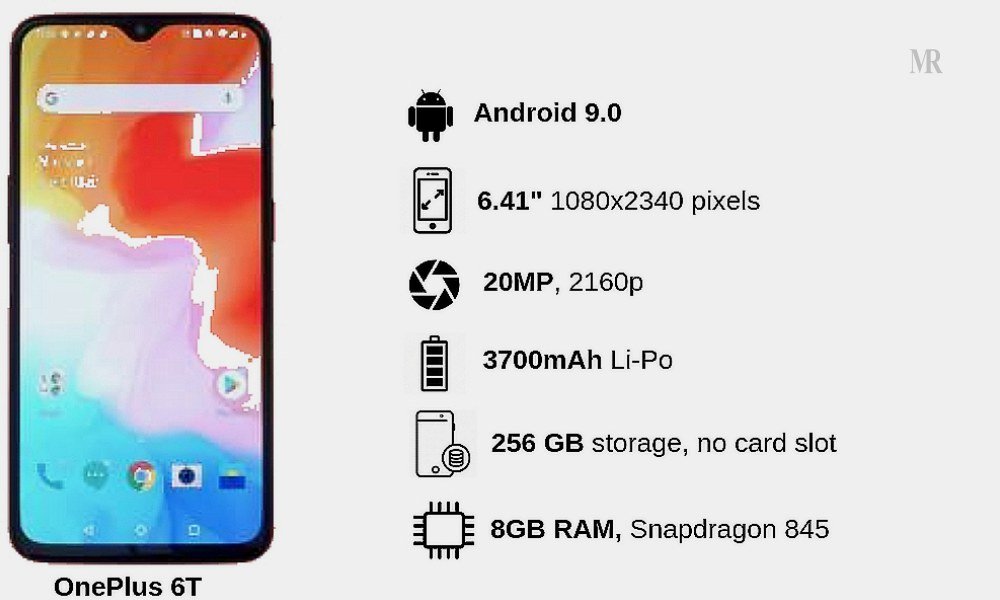 OnePlus 6T a unique flagship killer phone was launched in November 2018 with its new look and features to compete in the mobile phones market. Headphones jack was minus to improve the audio quality of the mobile. The OnePlus 6T runs the same Qualcomm Snapdragon 845 chipset as the OnePlus 6, but comes up with high internal storage of 256GB.
OnePlus 6T is lighter in comparison to Xiaomi Mi Mix 3. Lightweight devices are easier to hold without tiring your arms. Apart from it, this flagship killer phone is having the great advantage of having better battery capacity.
OnePlus 7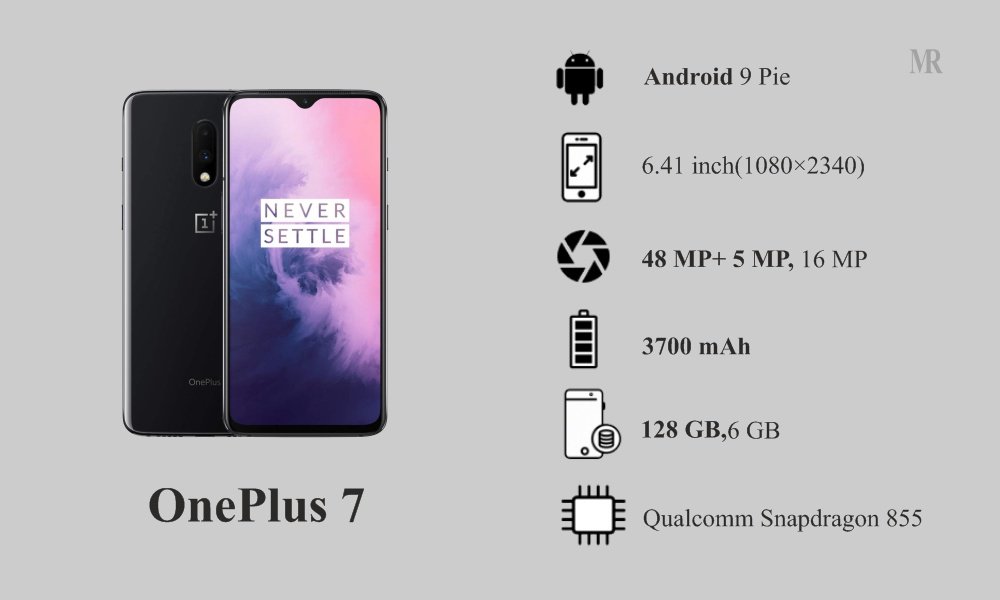 OnePlus 7 offers an experience that remains unrivaled in smoothness and clarity. The design of the phone is both refreshing and study. The curve edge-to-edge ensures an immersive experience. It also has a noise cancellation feature for better audibility. The fast charge lets the user play or watch videos even when the phone is charging. The selfie's on this phone are redefined for a beautifully detailed life-like picture. OnePlus 7 is available with color options like Mirror Blue, Mirror Grey, and Red.
One plus 7 Pro
The OnePlus 7 Pro is fast, has a neat pop up camera and it's triple rear cameras click quality pictures- all at $80 less than its closest Samsung and iPhone contenders. The users can experience unparalleled smoothness and clarity with a 90 Hz refresh rate and QHD+ resolution. One Plus 7 Pro has upgraded a Screen Unlock technology that ensures unlocking the device in just 0.21 seconds. The phone can give an experience of a 'personal photo studio'. This Smartphone is available in 2 other variants like Almond, Mirror Grey, and Nebula blue.
One Plus 7T
One Plus 7T has a receptive 90 Hz refresh rate and the latest HDR10+ technology. The OnePlus 7T's liquid-like display is smooth, vivid, and immersive. It is certified by world-renowned TUV Rheinland for superior blue light reduction and safe view. Gaming experiences are more alluring, videos grow more cinematic, and everyday tasks are easier in a vast 20:9 aspect ratio. The users can click stunning night- time photos with both main and ultra-wide camera angles.
This smartphone is available in other variants like 256 GB and 128 GB with color options like Frosted Silver and Glacier Blue.
OnePlus 7T Pro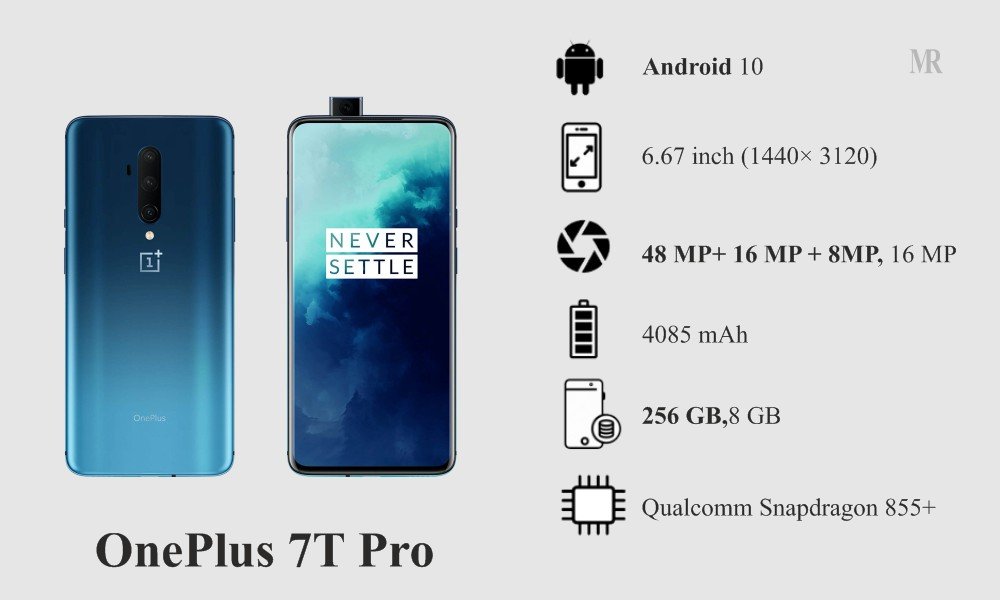 The OnePlus  7T Pro's immersive edge to edge display boasts a 90 Hz refresh rate for unmatched smoothness and QHD+ resolution for exceptional clarity. The users can take brighter, clearer lowlight photos with Nightscape, available on the main and ultra-wide cameras. Landscapes and large group photos can be captured with a panoramic 117° field of view. The phone enables a telephoto camera for crystal clear 3x optical zoom view.
OnePlus 8
The OnePlus 8 elevates the viewing experience with a 90Hz display designed for seamless motion. The vivid colors and vibrant details with a bright display make it worth an experience. The 6.56″ fluid display flows seamlessly from one frame to another, with a 0 Hz refresh rate that allows the user to swipe scroll, and navigate easily. With 4096° levels, Auto brightness can precisely adjust the display to a more comfortable brightness setting. The reading mode can be adjusted from saturated to monochrome for more comfortable reading day or night.
One Plus 8 Pro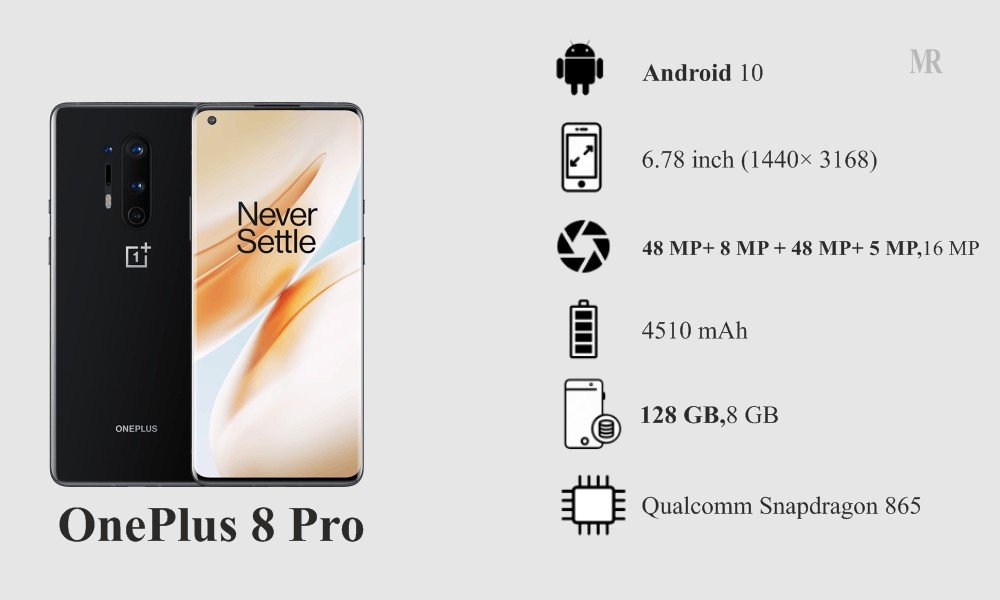 The OnePlus 8 Pro's Fluid Engine ensures onscreen content flows seamlessly between two frames. The phone has a stunning edge to edge 6.78″ QHD+ display. With a display that can reach an incredible 1300 nits, one can see onscreen content even direct sunlight.  The users can experience smoother videos that pop with vibrant colors and brilliant detail. HDR Boost enhances shadow and highlight detail while gaming or watching videos.
OnePlus Nord
OnePlus Nord is the latest addition to the OnePlus family. Nord comes with 48 MP primary sensor as the OnePlus 8, complete with optical image stabilization (OIS) to eliminate blur and shakiness from every photo.  Nord is smart enough to remove unwanted noise and sharpen things up in tricky shooting scenarios, like harsh sunlight. Nord comes with an ultra-wide-angle on its front that allows huge group shots. To see could do, it should be placed in the hands of talented photographers from across the globe.
OnePlus started its journey with a flagship killer, the OnePlus, which was available at one- third the price of other flagships in the market at that time. Over the years though, as the company has added more features to its devices.
The OnePlus Nord is meant to sit below the OnePlus 8 series and yet to offer a similar experience to customers who are unwilling to spend a huge on a smartphone.
One plus usually does a decent job of bringing some of the new features it launches with its latest flagships to older devices.
Also Read, 
12 Apps to Enhance Your Productivity at the Workplace