The beverage industry is constantly evolving, and 2023 will be no exception. The leading soft drink brand's exciting flavors, refreshing experiences, and commitment to quality have captivated people all over the world. With a growing emphasis on health-conscious choices and sustainability, these brands have adapted to meet the market's changing demands. In this blog, we will delve into the top 10 soft drink brands in 2023 that has become synonymous with refreshment, capturing the hearts and taste buds of millions around the globe.
As of now, in 2023, the market size of the soft drink industry is $471.35 billion.
The international soft drink market is anticipated to increase with a CAGR of 5.23% up to 2030.
1. Coca-Cola
Origin Country: USA
Founding year: 1892
Net worth: USD $271.71B
The Coca-Cola Company is actively involved in manufacturing, selling, and marketing syrups, non-alcoholic beverage concentrates, and alcoholic beverages in the beverage industry. Its extensive portfolio includes over 500 brands encompassing teas, sports drinks, water products, fruit juices, and soft drinks. Recognized as the world's most popular soft drink, Coca-Cola holds a market share of 43.7%.
Here are some of their most popular brands:
Fanta
Spirte
Coke
Coca-Cola Classic
2. Pepsico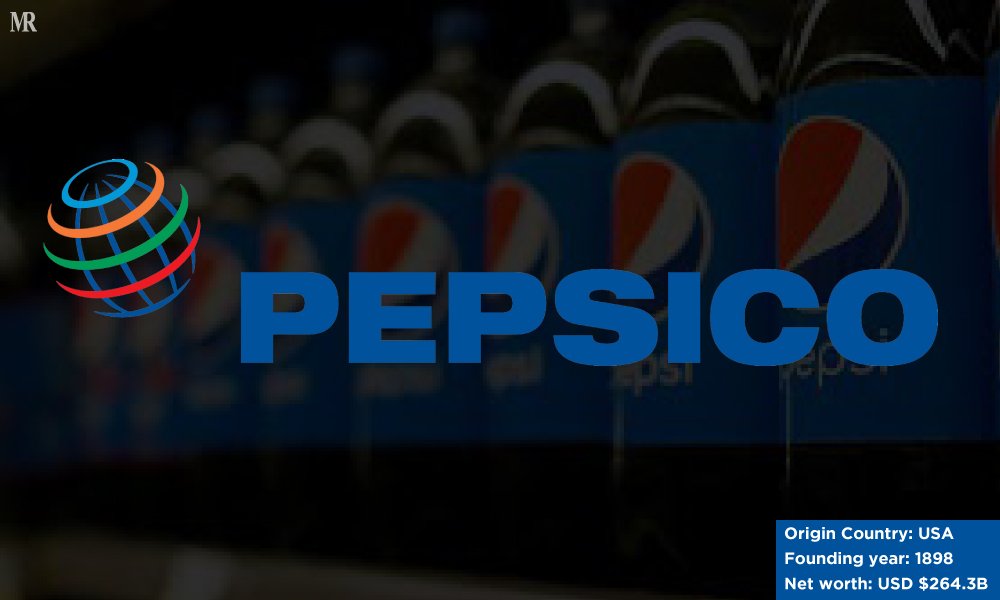 Origin Country: USA
Founding year: 1898
Net worth: USD $264.3B
PepsiCo operates in over 200 countries, offering 23 renowned brands and generating more than USD $1 billion in sales Besides their carbonated soft drinks containing carbonated water, caffeine, and sweetener, PepsiCo also caters to health-conscious consumers by providing caffeine-free, sugar-free, and naturally flavored options without carbs or chemicals. They hold a market share of approximately 48%.
Pepsico's famous brands are:
Gatorade
Tropicana
Pepsi
Mountain Dew
3. Unilever
Origin Country: UK
Founding year: 1929
Net worth: USD $134.5B
Unilever holds a prominent position in the global soft drink market in revenue. With a presence in 190 countries, Unilever offers a diverse range of products encompassing personal care, beauty, beverages, food, ice cream, and condiments. Its renowned beverage brands enjoy widespread popularity, contributing to Unilever's status as the third-largest consumer goods company in the world based on revenues, with a market capitalization of USD $132.05 billion.
Some of their popular brands are:
4. Monster Energy Company
Origin Country: USA
Founding year: 1935
Net worth: USD $59.68B
Monster Beverage emerges as a renowned producer of a diverse range of beverages, encompassing juices, popular sodas, soft drinks, and energy drinks. Serving as an independent license for the esteemed Monster Energy brand, the company maintains offices in Dallas, Sydney, Sao Paulo, and various other locations. Additionally, its manufacturing plant in Riverside Country remains engaged in the production of beverages. Notably, the market capitalization of Monster Beverage stands at an impressive $61.88 billion.
The highlights of the brands include:
Monster Energy
Lo Carb
Absolutely Zero
M-80
5. Keurig Dr. Pepper
Origin Country: USA
Founding year: 2008
Net worth: USD $44.68B
Keurig Dr. Pepper Inc. operates in the beverage industry and holds the fifth position among the world's largest and most popular soft drink brands in terms of revenues and it has also been ranked fifth on our list of the top 10 soft drink brands. Keurig Dr. Pepper Inc. actively offers 125 cold and hot beverages, including juices, sodas, and soft drinks. The company holds a market share of 25%.
Their brands include products such as:
Dr Pepper
7up
RC Cola
Sun Drop
6. Danone
Origin Country: Spain
Founding year: 1919
Net worth: USD $42.95B
Danone, a global leader in the food and beverage industry, is also a giant in the soft drink industry, with a continued focus on its functional and flavored water brands. Danone has a powerful presence in the Asia Pacific and Latin America markets. In 2001, Danone gained Aqua Group, a move that has proven to be highly successful. Additionally, the company gained Naya Waters and Sparkling Spring Water Group in 2000 and 2002, further expanding its portfolio. Danone currently holds a market share decrease of 21%.
A few of the brands they own are:
Danone Aqua
Nutrilon
Danette
Bonafont
7. Red Bull
Origin Country: Austria
Founding year: 1984
Net worth: USD $20B
People constantly seek new ways to stay awake, whether through coffee or caffeine pills. The Red Bull brand caters to this demand, as it was developed in Thailand using B vitamins, glucuronolactone, and caffeine to enhance endurance. Red Bull positions and markets itself as an energy drink that aids in sustaining physical and mental exertion, as it contains similar chemicals to sodas. Its market share is 43%.
Included in their brand collection are:
Energy Drink
Sugarfree
Zero
Red Edition
8. Asahi Group Holdings
Origin Country: Japan
Founding year: 1889
Net worth: USD $9.63B
Asahi Group Holdings Ltd., a prominent Japanese company, has secured a significant position in the global soft drink market in terms of revenue, earning it the distinction of being ranked fourth on our list of the top 10 soft drink brands. The company specializes in the beverage industry, providing diverse products, including juice, bottled water, and an assortment of soft drinks. Asahi Group Holdings operates through multiple divisions, with its soft drinks segment capturing a substantial market share of 17.2%.
A glimpse of the brands they own:
Wilkinson
Jurokucha
Mitsuya Cider
Calpis
9. Arizona
Origin Country: USA
Founding year: 1971
Net worth: USD $4.4B
Next up on the list of the top 10 soft drink brands is the Arizona Beverage Company. It caters to a large customer base, primarily in the USA, Mexico, and Canada. Renowned for its wide range of products, including energy drinks, juice cocktails, iced tea, and soft drinks, the company holds a significant market share of 13.8%.
They have a variety of brands, including:
Black & White Tea
Cherry Lime Rickey
Fruit Punch
Munch Mango
10. Britvic
Origin Country: UK
Founding year: 1845
Net worth: USD $2.93B
As we reach the end of our list of the top 10 soft drink brands, Britvic manufactures a wide range of soft drinks in Great Britain, Ireland, France, and Brazil. They export their products to nearly 100 countries worldwide. With an extensive portfolio of approximately 1600 items, Britvic Plc commands about 5% of the market share. It produces soft drinks under its brand and various others, holding an exclusive license from PepsiCo to produce and distribute Pepsi Max, Lipton Ice Tea, and Rockstar Energy. Britvic Plc's market capitalization stands at $2.96 billion.
A few from their range of brands:
Rockstar Energy
Robinsons Mini
Fruit Creations
Tango
This list of the top 10 soft drink brands in 2023 has provided a comprehensive picture of the industry's major players. You will gain valuable insights into the ever-changing soft drink business by examining these brands' various features and statuses. With so many options, you may now make informed decisions to satisfy your beverage preferences. Visit our site frequently to stay up-to-date and informed as we attempt to provide you with the most recent updates on various issues.
Also Read: 10 Technologically Advanced Countries Dominating the World