The world is not short of business tycoons to inspire us, but to achieve what they have achieved in a lifetime is not everybody's cup of tea. These business tycoons are distinguished as passionate personalities on a global level. There's a lot to be learned from these personalities, if you aspire to be a business tycoon. These leaders have entered the industry via various domains and now are at the top of their fields.
In this blog, we have enlisted some of the best business tycoons in their respective fields, who are an inspiration for all. There is a lot to learn about business strategies and decision-making from these tycoons. So, here is the list of top business tycoons in 2022 who have taken the world by storm.
Top 15 Business Tycoons
1. Elon Reeve Musk: CEO of SpaceX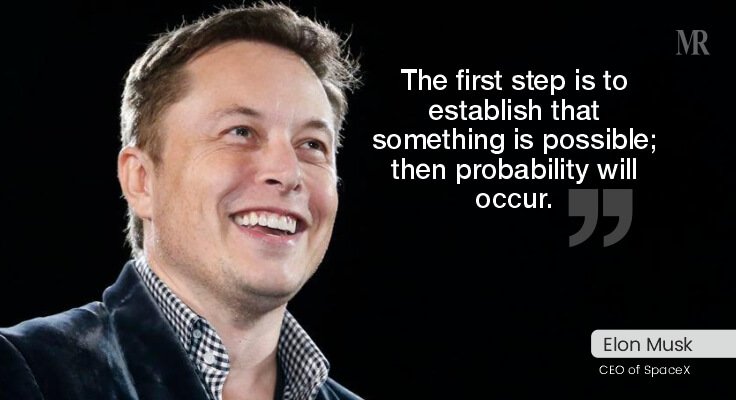 Elon Reeve Musk is an entrepreneur and investor. He is the CEO of Tesla, the most valuable car company in the world. The company, situated in Austin, Texas, sells electric vehicles as well as home solar batteries. Musk is also the CEO of SpaceX, a rocket builder chosen by NASA to resupply the International Space Station, and owns a share in Twitter. He is the world's wealthiest individual, with an estimated net worth of roughly US$219 billion as of June 2022. He is also a co-founder of Neuralink and OpenAI.
In terms of SpaceX's primary ambitions, Musk has previously claimed that the company's initial intentions were predicated on considerably reducing the cost of access to space while simultaneously greatly enhancing the reliability of such access. Often termed as "Man from the future", Elon Musk's integrity towards his dreams is admirable.
"When something is important enough, you do it even if the odds are not in your favor." Elon Musk
2. Jeff Bezos: CEO and Founder, Amazon
Jeff Bezos founded the e-commerce solution Amazon in 1994 in his garage in Seattle. He has a net worth of US$171 billion which makes him the world's 2nd richest person. He is a retail entrepreneur, investor, chairman, and CEO of Amazon. Bezos's space company Blue Origin is working on launching and building reusable rockets.
Blue Origin, SpaceX, Boeing, and NASA are jointly working on a project that is targeted toward the 'Humans on Moon by 2024' mission, and its colonies on Mars by the 2030s. This innovation makes a difference in the world and he is introducing many projects in robotics and space technology for future expansion.
"You have to be willing to be misunderstood if you're going to innovate." Jeff Bezos
3. Bernard Jean Etienne Arnault: Chairman, CEO of LVMH
Bernard Arnault is a French billionaire , a business tycoon and art collectors with a net worth of $158 billion. He is the Chairman and Chief Executive of LVMH. He was a partner at Salomon Brothers, a Wall Street investment bank before he started his own company. In 1981, he launched Bloomberg L.P., an information technology and media company that has now grown to be worth $100.2 billion with more than 100 offices worldwide.
LVMH's announced to bring new jobs to the U.S. The strategy is to generate 1,000 jobs in the next five years. To support this, Louis Vuitton is providing an educational training program to America's workers, which was launched in 2019. Bernard Arnault's contribution to providing high-quality and traditional values to the world, inspires everyone to do the same.
"I like that combination between creativity and the creative process and the organization needed to make a business like this successful worldwide." Bernard Arnault
Also read, Interesting Facts about Bernard Arnault
4. Bill Gates: Co-founder Microsoft
Bill Gates, a co-founder of Microsoft, is the fourth richest person in the world, with a net worth of $129 billion in 2022. His $30.8 billion stakes in Microsoft is worth 1.3 percent of the company. Cascade Investment LLC holds $55.9 billion in public and private assets, as well as $55.3 billion in cash. Cascade's private investment portfolio includes Deere, Republic Services, Canadian National Railway, and a portfolio of private energy and real estate businesses.
Microsoft, the world's largest software corporation, also manufactures personal computers, publishes books through Microsoft Press, offers email services through its Exchange server, and sells video gaming consoles and related peripherals. Bill Gates has lived and conquered 2 different generations, a page from his book can do wonders.
"It's fine to celebrate success but it is more important to heed the lessons of failure" Bill Gates
5. Warren Buffett: CEO, Berkshire Hathaway
Warren Edward Buffett, Chairman, and CEO of Berkshire Hathaway and also a best business tycoon to look up to. He is the most successful investor in the world with a net worth of US $118 billion. He is also known as the 'Oracle of Omaha'. He owns more than 60 companies that include insurer Geico, battery maker Duracell, and restaurant chain Dairy Queen. In 2010, he and Gates launched the 'Giving Pledge' asking billionaires to commit and donate half their wealth to a charitable trust.
Buffett's investment philosophy contributed to the world in a bargain-buying strategy for the generation of investors. He said, "If you're making a good investment in security, it shouldn't bother you if they closed the stock market for five years." He is a great role model for investors of the next generation.
"The most important investment you can make is in yourself." Warren Buffet
6. Larry Page: Co-Founder of Alphabet
Lawrence Edward Page is a business tycoon, an internet entrepreneur and computer scientists in the United States. Along with Sergey Brin, he is best recognized as one of the co-founders of Google. He is also the Board-member and co-founder of Alphabet and stands in sixth place on the richest person's list. His net worth is projected to be $111 billion. In addition to his other assets, he has $14.6 billion in cash. Google's stock increased by roughly 50% in 2021, propelling Larry into the billionaire club. He was also an early investor in Planetary Resources, a space exploration, and asteroid mining company.
Planetary Resources, a space exploration, and the asteroid-mining corporation were founded by Larry, who was one of the company's early investors. The company was founded in 2009 and was acquired by blockchain developer ConsenSys in 2018 due to funding issues. He is also a fan of "flying vehicle" firms and has invested in both Kitty Hawk and Opener.
"Especially in technology, we need revolutionary change, not incremental change." Larry Page
7. Sergey Brin: President Alphabet & Co-founder of Google
Sergey Mikhaylovich Brin is an Internet entrepreneur and computer scientist from the United States. He, along with Larry Page, co-founded Google. Brin was the CEO of Alphabet Inc., the parent company of Google. He has a net worth of $107 billion as of June 2022, making him the world's seventh-richest person. He maintained the same position at the Alphabet holding company after it was founded in 2015 until Sundar Pichai took over as CEO in 2019.
Brin spent the most of 2019 focused on X, Alphabet's research division responsible for cutting-edge technology such as Waymo self-driving cars and Google Glass smart glasses. He's also partnered with The Michael J. Fox Foundation to donate millions of dollars to Parkinson's disease research.
"Any conversation I have about innovation starts with the ultimate goal." Sergey Brin
8. Larry Ellison: Founder and CTO, Oracle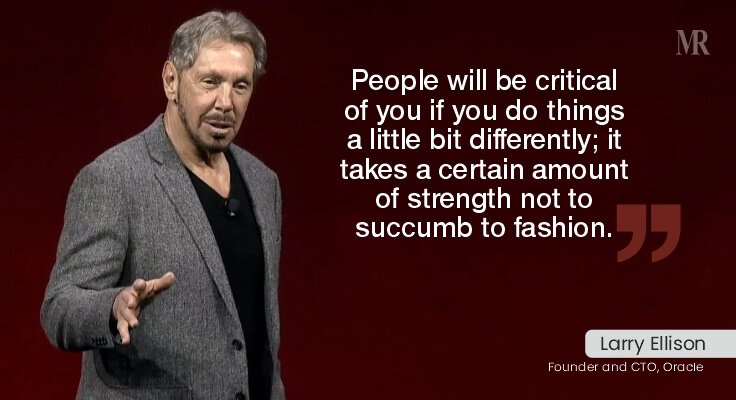 Lawrence Joseph Ellison is an American businessman, entrepreneur, and philanthropist who is a co-founder and the Executive Chairman and Chief Technology Officer of Oracle Corporation. Larry Ellison co-founded the software firm Oracle in 1977 and currently has a net worth of $106 billion.
In May 2016, Ellison pledged $200 million to the University of Southern California for a cancer treatment center. In the year 2019, Larry Ellison introduced the world's first autonomous OS, Oracle Autonomous Linux on the cloud. What makes him unique is his creative ideas and his thinking-out-of-the-box approach. So everyone needs to think as he said, "Don't be afraid to be different."
"People will be critical of you if you do things a little bit differently; it takes a certain amount of strength not to succumb to fashion." Larry Ellison
9. Gautam Adani: Founder Adani Group
Gautam Adani, the founder of the Adani Group. He surpassed Mukesh Ambani as Asia's richest person in March 2022 . He is a business tycoon with a net worth of $98.1 billion. Adani owns a 75 percent investment in Adani Enterprises, Adani Power, and Adani Transmissions through his Adani Group, as well as a 65 percent stake in Adani Ports & Special Economic Zone, a 61 percent share in Adani Green Energy, and a 37 percent stake in Adani Total Gas through his Adani Group.
Adani had previously worked in the diamond industry after dropping out of college. He now owns India's largest port operator, a closely held thermal coal producer, and a coal dealer. He bought a 74% share in Mumbai International Airport, India's second busiest airport, in 2020.
"Either you sit on the pile of cash, or you continue to grow" Gautam Adani
10. Steve Ballmer: Owner, Los Angeles Clippers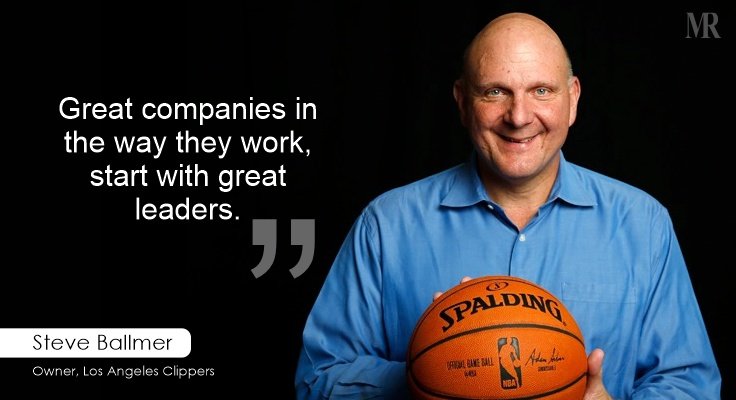 Steve Ballmer is the former CEO of Microsoft. He joined the company in 1980 after Bill Gates persuaded him to leave his MBA program at Stanford University. He was the company's thirty-first employee. In the year 2000, Ballmer succeeded Gates as CEO of Microsoft. He maintained the role until 2014 when he stepped down. Ballmer led Microsoft's $8.5 billion purchase of Skype in 2011.
Ballmer bought the Los Angeles Clippers basketball team for $2 billion in 2014, shortly after stepping down as Microsoft CEO. He is also a shareholder in Microsoft, which is situated in Redmond, Washington, and produces the Windows operating system, Xbox game console, and Surface tablet computers. He currently has a net worth of $91.4 billion.
"Great companies in the way they work, start with great leaders." Steve Ballmer
11. Mukesh Ambani: Chairman, MD Reliance Industries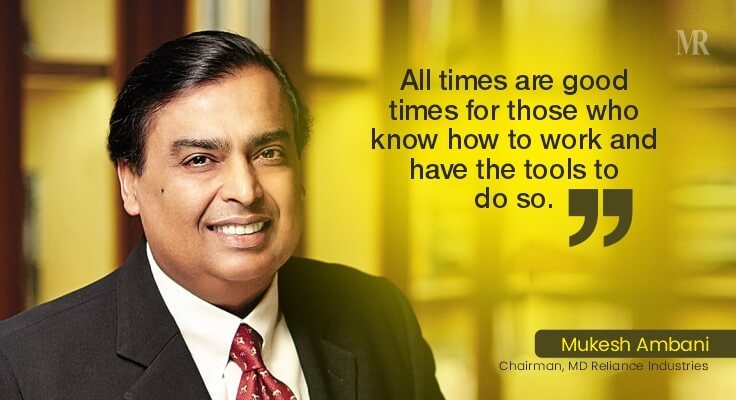 Mukesh Dhirubhai Ambani is a business tycoon from India who is the chairman, managing director, and major shareholder of Reliance Industries Ltd. (RIL), a Fortune Global 500 corporation and India's most valuable firm by market value. Ambani's net worth is expected to be $ 90.7 billion as of June 2022.
He also owns the Mumbai Indians of the Indian Premier League and is the founder of the Indian Super League, a football league in India, through Reliance. Forbes ranked him as one of the world's wealthiest sports owners in 2012. He lives in the Antilia Building, which is one of the most expensive private mansions in the world, with a price tag of $1 billion. Ambani's story, like that of Bill Gates, is fascinating.
"Everybody has equal opportunity and I think that is true for everything." Mukesh Ambani
12. Michael Bloomberg: CEO of Bloomberg L.P.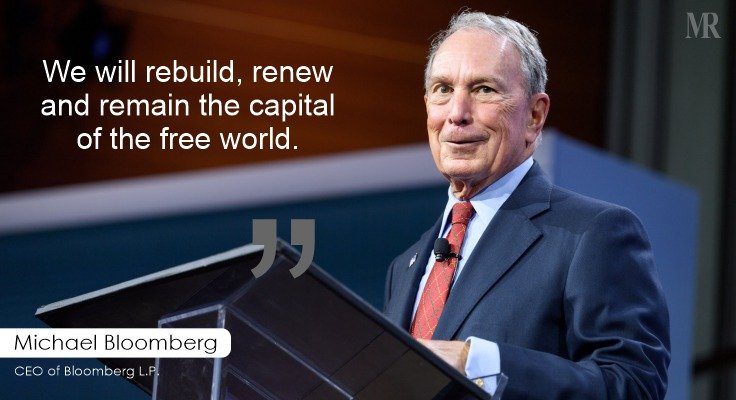 Michael Rubens Bloomberg is a business tycoon, businessman, politician, philanthropist, and author from the United States. He owns the majority of Bloomberg L.P. and is the primary owner, co-founder, and CEO. As of June 2022, he controls 88 percent of the company and has an estimated net worth of $82 billion.
He served as Mayor of New York City from 2002 to 2013, and ran for President of the United States as a Democrat in 2020. Bloomberg signed The Giving Promise in August 2010, in which the wealthy pledge was to give away at least half of their wealth. He has handed away a total of $9.5 billion since then, including $3.3 billion in 2019. He gave given the most money of any philanthropist in 2019, according to the Chronicle of Philanthropy.
"We will rebuild, renew and remain the capital of the free world." Michael Bloomberg
13. Carlos Slim Helu: Chairman, America Movil
Carlos Slim Helu is a business tycoon and also the richest person in the country and owns more than 200 companies in industries ranging from banking to retail to telecommunications. The 78-year-old owns America Movil, the largest mobile phone company in Latin America, and Grupo Carso Conglomerate Company, which includes a host of retailers and restaurants, among other companies. He is the 14th richest man in the world with a net worth of $81 billion.
Slim is part of the group of entrepreneurs that participates in the drafting of the national infrastructure program (PNI) 2019-2024. He is supporting President of Mexico in fighting corruption and promoting economic growth.
"All times are good times for those who know how to work and have the tools to do so." Carlos Slim Helu
14. Francoise Bettencourt Meyers: Owner L'Oreal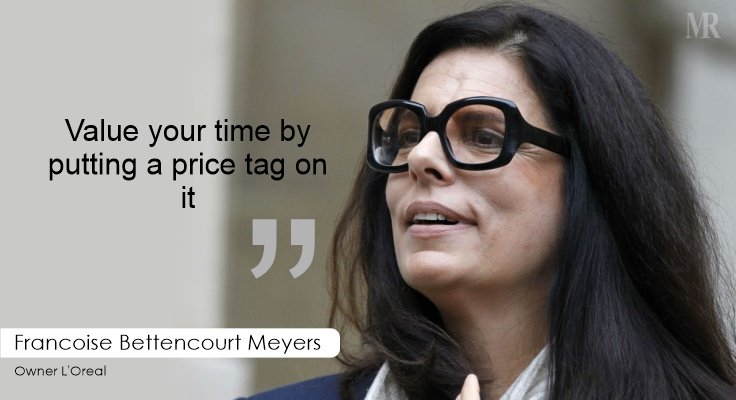 According to Forbes, Françoise Bettencourt Meyers is the richest woman in the world, with a net worth of $74.8 billion as of June 2022. She is a business tycoon, French businesswoman, philanthropist, writer, pianist, and billionaire heiress. She is Liliane Bettencourt's only child and the granddaughter of L'Oréal founder Eugène Schueller. Her fortune increased after her mother died in September 2017, thanks to her investments through her family holding company, Tethys Invest, and the high stock market worth of L'Oréal shares.
L'Oreal, the world's largest cosmetics company, is controlled by Bettencourt Meyers, who owns 33% of the company. She is the head of the holding company that owns the family's shareholding. Lancome and Garnier are also owned by L'Oreal, which had revenue of 32.3 billion euros ($38.2 billion) in 2021.
"Value your time by putting a price tag on it" Francoise Meyers
15. Mark Zuckerberg: Co-founder & CEO, Facebook
Mark Zuckerberg is a business tycoon to be inspired from. He is a famous Co-founder & CEO of the social network Facebook. Recently, Facebook acquired the two most popular social networking & messenger apps called Instagram & WhatsApp respectively. Currently, he has a net worth of $67.3 billion. Apart from this, Zuckerberg has also pledged to donate 99% of his Facebook holdings toward charity.
In an interview, Mark Zuckerberg spoke about how taking risks is important. This motivation emphasizes the point that one must take risks to succeed. "Not taking risk is the only strategy that's guaranteed to fail", said Zuckerberg. This strategy encourages us to follow him in the next coming years.
"By giving people the power to share, we're making the world more transparent." Mark Zuckerberg
Also Read, Businesses That Will Thrive After Coronavirus Pandemic